The Original Factory Shop chief executive Tony Page has lofty ambitions for a retailer that he has dubbed a "well-kept secret".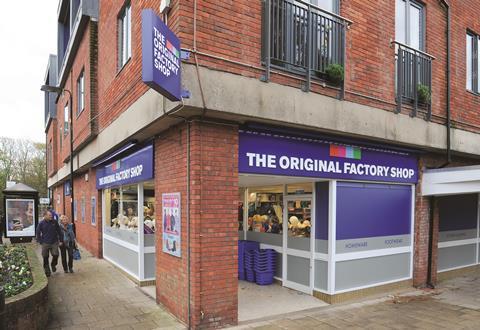 Sitting in the no-frills staff room at the retailer's Biggin Hill store in Kent, the former Woolworths exec enthuses about how his customers love a bargain.
Page cites the theory that when shoppers nab a bargain, they're boosted by a release of the neurotransmitter dopamine, which controls the brain's reward and pleasure centre.
He hopes to harness this chemical reaction to turn The Original Factory Shop into the UK's "best-loved retailer".
The plan seems to be working so far. Pre-exceptional EBITDA increased 50% year-on-year to £14.2m for the year ending March 31. Sales were up 7.1% to £208m and like-for-likes rose 4.2%.
Ex-Woolworths man
The retailer's focus on value has enabled it to thrive - and value is something Page knows a thing or two about.
He was Woolworths' well-regarded marketing and commercial director from 2006 until 2009, and he says he has taken some ideas from his time there in his approach to running The Original Factory Shop.
Perhaps the best example of that is resurrecting Woolworths' value range WorthIt! It was a brand Page helped to create in his time at the retailer and The Original Factory Shop now owns the trademark.
Value is at the core of Page's DNA it seems. The Original Factory Shop's best deal of the week is affectionately heralded internally as 'Tony's Talk of the Town'.
While Page says he is not trying to emulate Woolworths, he notes he has drawn on his experience there in other ways too.
"Woolies showed everyone a more community-based store is something a lot of customers desire," says Page.
Biggin Hill is indicative of the type of small town location that 206-store retailer The Original Factory Shop has traditionally favoured opening in.
The town is so small it has no train station, although it does have an airport and a helipad.
By choosing such locations The Original Factory Shop has managed to build up a community feel in its stores. The Biggin Hill staff have even been known to deliver products to customers' homes in the back of their own cars and assemble vacuum cleaners for shoppers.
But despite the success of opening in these smaller locations, The Original Factory Shop has just started piloting stores in bigger towns and retail parks.
Page says he is "cautiously optimistic" the retailer will be able to maintain the community spirit outside of small towns.
"Where we have trialled stores we still very much have that community feeling and colleagues still have the relationships with the customers so I am confident it can be done, but I'm also wary of losing what is at the heart of who we are," says Page.
Broad appeal
It does seem though that The Original Factory Shop is able to trade well in a range of different locations. Take Biggin Hill - it is just down the road from a Waitrose, perhaps a surprising neighbour considering the department store's value-led proposition.
"It doesn't matter if we are in a relatively posh part of the country, we cut through demographics with quality product at bargain prices," says Page.
And in an effort to keep attracting a broad demographic, The Original Factory Shop is making a concerted effort to stock more aspirational brands.
The retailer offers Denby china and around Valentine's Day it was selling a Jean Paul Gaultier perfume that had an RRP of £71.50 for £40.
"It doesn't matter if we are in a relatively posh part of the country, we cut through demographics with quality product at bargain prices"

Tony Page, The Original Factory Shop
Own-brand still makes up around half of the retailer's range and Page is keen to point out it does not sell anything "pretentious because that is not what we are".
This straight-forward thinking is instilled into the company's hiring strategy and a key criteria for working at the company is being "genuine".
This comes from the very top. Page dressed as an elf when he worked on the shop floor last Christmas.
The attitude of the staff will be a key weapon in the battle to become the country's best-loved retailer, which Page will measure through customer satisfaction scores.
Page hopes that word of mouth will support its ambitious growth plans. The retailer has identified as many as 400 further locations it could open stores in, and hopes to reach new customers through a revamped website.
That will relaunch in the second week of September as the retailer is finally able to extricate itself from an "onerous" web contract.
"The current website is not a pleasant shopping experience and the new platform will be something to be proud of rather than wince at," says Page.
The Original Factory Shop is also laying the supply chain groundwork for a click-and-collect proposition with a unique twist. Page wants to launch 'Chat and Collect' - a service that will allow customers to discuss what products they want with staff, who can then use in-store computers to find the perfect product and have it delivered to store.
While there is plenty on his plate domestically, Page has not ruled out international expansion.
"The human race all has this dopamine, so why not?" he laughs.