Car parts and cycle specialist Halfords like-for-likes dropped 4.8% in the third quarter after comparatively warm weather affected car maintenance sales.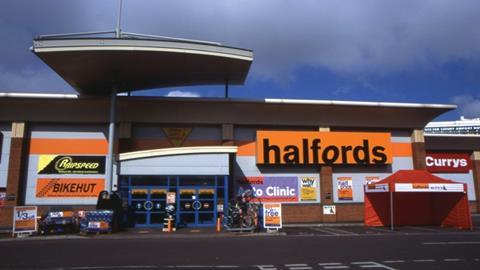 In the 13 weeks to December 30, group revenue slipped 2.1%, despite sales at its garage division, the Autocentres, rocketing 18.7%.
The retail division slumped 4.4%.
The warmer winter weather this year changed the retail sales mix as cycling like-for-likes increased by 15.1% driven by a strong performance in children's bikes over the Christmas period, while car maintenance like-for-likes plunged 12.8%. Online sales were impacted by the decline in sat-nav sales, delivering a 3.6% fall.
However, the Autocentres arm experienced a strong like-for-like increase of 10.9% and due to Halford's Wefit service, sales of bulbs, blades and batteries increased by a record 28.6% as the retailer attracted new customers.
Leisure, which includes products like tents, also saw good like-for-like growth of 9.7%.
Halfords chief executive David Wild said the business is continuing to grow market share in the cycles category.
He added: "The underlying performance of our business is encouraging as we develop Halfords in line with the changing needs of our customers.
"The economic outlook remains uncertain, but we are confident that our focus areas create the right platform for future growth."
Talking about the warmer weather Wild added: "The warmer winter had a big impact because car maintenance product sales such as anti-freeze, de-icer and scrapers were not needed like they were last year. Batteries also tend to fail when the temperature drops and this year we were well down on battery sales."
Wild said another 12 Autocentres will open in the next three months ready for the peak MOT demand in spring but he did not wish to disclose how many are planned for the next financial year. Halfords has brought its spring marketing campaign forward a month to February to help drive customer awareness of the MOT service, investing more in the campaign than last year.
Wild reaffirmed that Halfords is continuing to review its store portfolio as 150 leases come up for renewal over the next three to five years, downsizing stores outside of London to an average 6,000 sq ft store and closing some. But it plans to open more smaller London stores.
The retailer expects gross margin to decline in-line with market expectations by 130-150 basis points, which has narrowed from the previous guidance.