Fortnum & Mason's chief executive Ewan Venters talks to Retail Week about the upcoming Heathrow Terminal 5 store, expansion and brand overhaul.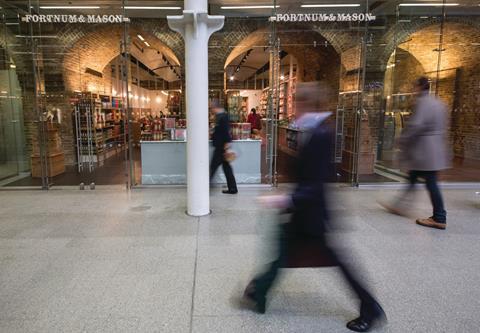 Fortnum & Mason's opening in Heathrow Terminal 5 this autumn is not its first foray into travel retail. Back in the early 1900s, the luxury department store used to deliver food to landed gentry adventurers.
"Fortnum & Mason would pack hampers, and a horse and carriage would take the goods to a train," says chief executive Ewan Venters. The retailer even sent provisions to intrepid explorers heading to Mount Everest in 1924. "We've long had an association with travel at Fortnum & Mason," he adds.
Venters proffers plenty of historical anecdotes about the retailer. He is obviously proud of the long history of the quintessentially British retailer, which remains on the Piccadilly, London site it was founded on in 1707 – the same year England, Scotland and Wales came together to form the Kingdom of Great Britain.
As the opening of its forthcoming standalone Heathrow store indicates, Fortnum & Mason is thinking beyond central London, and is making travel retail a key part of its strategy as it seeks to expand the £65m business. Its 2013 results provided a good start to its next phase of development – pre-tax profit increased five-fold to £1.8m in the year to July 2013.
Those flying out of Heathrow's most swanky terminal will be able to check in to Fortnum's 1,000 sq ft store and fill their baskets with hampers, teas and preserves, or head to the savoury counter where staff will serve chilled products such as smoked salmon and caviar.
It doesn't stop there – the retailer is swooping in on the trend for travellers wishing to kick-start their holidays in style at oyster and champagne bars, by launching the Fortnum & Mason Bar in December at the airport store. It will offer fresh, seasonal food and drink such as smoked salmon, champagne and wine.
Taking off
The plan to open at Heathrow follows the arrival of Fortnum & Mason's second standalone store, at London's St Pancras International railway station, nine months ago.
"Modern travel retail is very relevant and important," says Venters. "St Pancras is the gateway to Europe and Heathrow is the natural next step.
"T5 is the most significant terminal in the world. Because of changes [in consumer behaviour], there's a trend for opportunities around travel retail. As a brand we're perfectly placed to offer the bar concept so people can get a taste of our food hall."
Although Venters says there is no formal plan for Fortnum & Mason stores in every UK airport, he says the retailer "will always look at selected domestic and international airports" for opportunities.
He is proud of the venture into St Pancras International, a beautiful Victorian terminus that is home to retailers such as Jo Malone, The White Company and Mac Cosmetics, and describes the success of the store as "phenomenal". Sales are 40% ahead of expectations.
"We've long had an association with travel at Fortnum & Mason"

Ewan Venters, Fortnum & Mason
"It's an absolute joy to operate," he says. "We've received significant business from Eurostar travellers but we've been getting a delightful volume of local business from those who live and work in the local area. We've found that 25% of people shopping at our St Pancras store never intend to travel so a lot of the shoppers are very local. It's been a commercial success and brand success story, getting people to re-evaluate and engage in the Fortnum & Mason brand."
Changing customers' perceptions is exactly what Venters, who joined Fortnum & Mason about 18 months ago from Selfridges, is on a mission to tackle.
"People think of Fortnum & Mason at Christmas but we're so much more than that," he says. He also wants younger customers to walk through its doors more often.
"We do have a wide demographic but I'm a realist – we all know it's normal for people to remember going to Fortnum & Mason with their parents when they were younger and having a knickerbocker glory.
"We want to encourage the generation who have these memories, to ensure that the new generation are coming and bringing their children to the store."
And Venters has plenty of ideas up his sleeve to tempt younger customers in. One of those is sponsoring Skate at Somerset House this winter.
"It's a good brand opportunity – it's something in the city and it's disrupting people's view of Fortnum & Mason," he says. "It's very important for our Piccadilly store. We'll have a lot of packages such as ice skating then access to Piccadilly for afternoon tea, and a bar will serve hot chocolate and champagne. It's fun and creative and we'll have some retail presence at the rink so people can skate, shop and eat."
Fresher image
Fortnum & Mason has found other opportunities to freshen up its image, such as collaborating with foodie festival Port Eliot in Cornwall (July 2014), where it served Welsh rarebit from the world's largest hamper and offered customers an assortment of teas from a truck.
"All these things are about engagement with domestic consumers so that they re-evaluate the brand, and attract a younger profile of customers to help secure our future," says Venters.
With so much passion and enthusiasm for the retailer itself, as well as food and drink – his Twitter feed is a stream of food-related tweets and conversations with food bigwigs such as chef Tom Parker Bowles, chef and food writer Gizzi Erskine and restaurateur Mark Hix – it is clear Venters is in his dream job.
Even as a young boy, Venters was passionate about food. Aged just 11, he started his own bakery business, delivering bread rolls and cakes. He sold the business, which had six staff, at the age of 16 and just before he turned 17 he joined Sainsbury's management trainee programme.
"In August it'll be 25 years that I've worked in retail," he enthuses.
Expanded offer
Of course, Fortnum & Mason isn't just about food and drink. Other changes Venters has overseen during his tenure include the opening of the retailer's first jewellery department last autumn and a dedicated candle room that sells a range of candles and maps out the history of the product.
"It's a celebration of our history," he explains. "It was actually the first product we sold when we opened in 1707."
Venters goes on to share the story of how the department store was born, explaining how William Fortnum worked as a footman for Queen Anne and one of his roles was to light the candles as evening fell.
As the royal family insisted on having new candles every night, the perk of Fortnum's job was that he was allowed to take home the candles. In 1707, together with the gentleman he shared a home with – a Mr Hugh Mason – the two men set up shop, selling candles.
Two World Wars, 12 monarchs and various recessions later, and Fortnum & Mason continues to hold its own.
And if Venters' own passion for the Fortnum brand is anything to go by, the candle will continue to shine bright for another 300 years.