As Debenhams launches a German-language website, is multilingual ecommerce the way forward?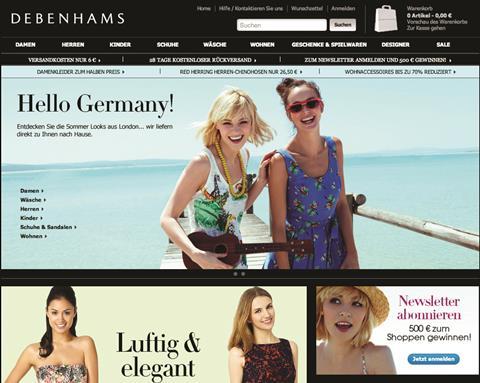 Why make the ecommerce offer multilingual?
Last week Debenhams announced the launch of a German-language website. The department store group points out that Germany is the second biggest online market in Europe, and Simon Forster, online director of Debenhams, says: "Germany has consistently been one of our top-performing countries online. Now German shoppers will benefit from their own bespoke website."
Pureplay Asos is another to present its site in a variety of languages, while Marks & Spencer supported its return to France with a French website. International pioneers such as B&Q are among the few to have Chinese-language sites.
Who stands to gain most from such an approach?
Unsurprisingly, those committed to international expansion have been first to develop multiple-language sites, along with department store groups and luxury specialists.
In the case of department stores, such an approach allows them to leverage what is often a small real estate base but a big brand name (Galeries Lafayette, for example) and – as with luxury brands – for many the spending power of Russian, Chinese, Japanese and Portuguese-speaking Brazilian consumers is critical. "It's about the potential reward," says Michael Ross, co-founder of eCommera. "A sterling, English-language site will attract base revenue. Each additional step should bring more sales but will add to costs."
Isn't it a logistical nightmare?
For a large, transactional website there is no doubt that producing fully translated pages in multiple languages can be costly. While it may be tempting to use automatic software translation, this should be reviewed by a human translator before posting to avoid errors.
A foreign-language or multi-language website also needs to be supported by online marketing in the same language. Ross reflects: "Online expansion needs to be thought about the same way as store growth."
What are the alternatives?
Until international delivery really began to take off, the need for a multi-language platform was limited. Now that many retailers deliver to many countries, the need to support those territories with own-language sites is more pressing.
Some have taken a pragmatic approach. Morrisons-owned Kiddicare has opted for a hybrid strategy, launching sites in countries with high English-speaking levels but pricing in local currencies.