The route of Baroness Thatcher's funeral procession on Wednesday has been unveiled with a number of retailers' stores set to be affected.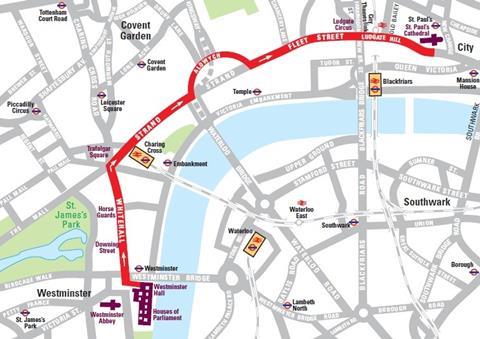 The former prime minister's funeral procession will move through central London from Westminister through, Victoria Street, The Strand and Fleet Street to St Paul's. All streets on the route will be closed to public traffic which will impact footfall in the area.
Retailers with stores on the route include Topshop, Paperchase, Jigsaw, Carphone Warehouse, Ryman and Currys.
Tesco has warned the media to allow extra time in travelling to its full-year results presentation at Nomura in the City on Wednesday morning due to the funeral.
A rehearsal of the funeral procession took place this morning. A full list of road closures can be found here
A New West End Company spokesman said that the fact the funeral is being held during the week rather than weekend would limit the impact on retailers. He added that he felt "really encouraged" by the organisation of the Police in advance of the event, which is expected to spark protests. "The whole world is going to be watching and the Police will be managing it," he said.