Footfall declined at its steepest rate for a year in the last three months, falling by 2.3% year-on-year as high street footfall plummeted 4.7% in October.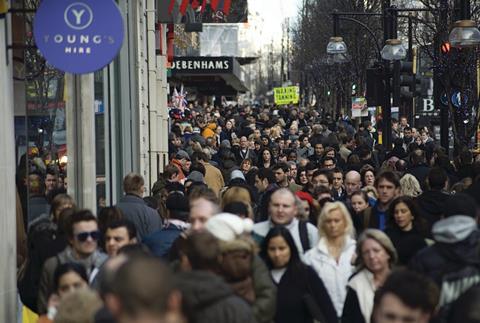 Data from the British Retail Consortium (BRC) and retail data specialist Springboard showed footfall from August to October across the high street and shopping centres dropped 2.5% while out-of-town declined by 2%.
In October, footfall on UK high streets dropped 4.7% - the steepest decline since December's heavy snow fall.
Weak consumer confidence and high utility bills combined with low wage growth contributed to the decline as shoppers reined in spending. Warm winter weather hit sales of standard seasonal warmers.
Hardest hit were the West Midlands, where footfall plunged by 10.4%; Scotland, which fell by 9%; and Northern Ireland where footfall declined 5.5%.
The South East came top with a 2.9% footfall increase while Wales (1.8%) and Greater London (-0.1%) followed.
BRC director general Stephen Robertson said: "To generate sales, retailers are offering lots of early promotions and running special events. Most people are determined to have their treats over Christmas if they possibly can. Retailers will be hoping the quiet quarter reflected in these figures is the result of households postponing their seasonal spending rather than cancelling it altogether."
Store vacancy rates dropped by 0.1 percentage points overall to 11.1%, while some regions have seen large decreases in vacancy rates. Northern Ireland dropped 4.2 percentage points to 12.9%.
Springboard research director Diane Wehrle said: "It is likely that this is in response to the approaching Christmas shopping season as retailers look to open temporary stores in order to take advantage of what is typically a period of increased consumer expenditure."