US private equity firm TPG has bought a controlling stake in Poundworld in a deal understood to be worth as much as £150m.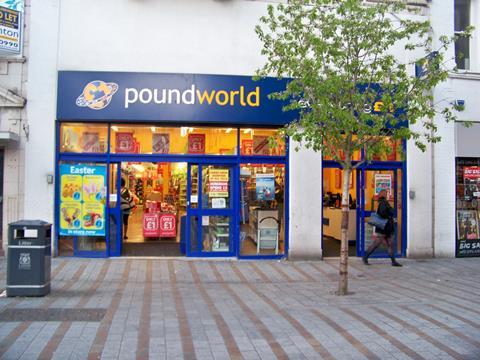 The deal ends months of speculation over the future of the retailer, which was also being circled by a host of other interested parties thought to include Apax Partners and CCMP Capital.
Under the terms of the TPG deal, founder and chief executive Chris Edwards Snr, chief procurement officer Chris Edwards Jr and other senior executives will retain a minority stake in the retailer.
Poundworld said the investment would "support" the retailer as it "enters the next chapter of its dynamic growth". It currently serves 2 million customers every week from 280 stores operating under the Poundworld and Bargain Buys fascias.
The TPG deal will help "fuel an accelerated store expansion programme nationwide", it said in a joint statement with Poundworld today. The retailer also wants to grow its product offer to "meet the increasing demand for value variety retailers."
Retail experience
Edwards Snr said: "After 40 years of building this great company, I am very excited to have a partner like TPG to support Poundworld's next phase of growth.
"They bring with them an extensive and global body of experience in retailing, which will help us to create the infrastructure and develop new capabilities to reach our very ambitious goals
"I began this business as a market trader and we now have millions of customers from all corners of the nation and all walks of life. Still, there is so much more for us to achieve."
TPG partner Abel Halpern added: "We see the continuing rise and evolution of the value retailer as an exciting change in the UK retail landscape.
"Poundworld has succeeded in building one of the leading positions in the market with a focus on consumer preference, convenience and value.
"With our financial backing and retail experience, combined with Poundworld's entrepreneurial dynamism and strong brand, the business is now well positioned for continued growth."
PwC's corporate finance team advised Poundworld on the deal. Director Dan Sheahan said: "The Edwards family story is one of true entrepreneurship and hard work turning a market stall into one of the UK's fastest growing retailers, now employing over 6,000 people.
"Having worked with the family for many years we are proud to have helped them raise this investment with TPG Capital and are confident that Poundworld will continue its journey of growth, with the financial and operational backing of one of the world's biggest investors."