Topps Tiles has revealed a 31.5% rise in full-year adjusted pre-tax profit as strong sales helped it gain a larger market share.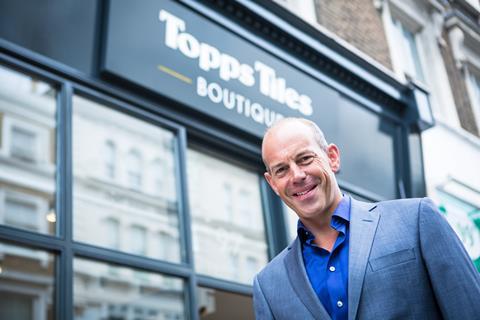 The tiles specialist increased profits during the year ending September 27 to £17.1m as sales rose 9.8% to £195.2m and like-for-likes were up 8.1%.
£17.1m

Topps Tiles profits during the year ending September 27
Market share increased to 30.3% during the year, up from 28.5% in the previous year, according to figures from Mintel.
Topps Tiles attributes its growing market share to "providing an inspirational shopping experience, unrivalled product range authority and multichannel convenience".
During the year the retailer extended its Topps Tiles Boutique trial to five stores and it has identified an additional 10 to 12 sites for 2015.
Other initiatives designed to boost the brand include a marketing campaign starring 'Location, Location, Location' presenter Phil Spencer and the roll out of updated branding across core stores in 2015.
Topps Tiles chief executive Matthew Williams told Retail Week: "Topps had an excellent year in 2013/14 as our consistent focus on taking profitable market share helped the group to significantly outperform the overall tile market.
"We have made an encouraging start to the new financial year with like-for-like sales ahead by 6.7%. With a programme of initiatives to extend the appeal of the Topps brand well under way, we are confident that we will deliver further progress this financial year towards our goal of taking one third of the market."
The retailer is now trading from 336 stores, up from 327 stores in 2013.
Brand reappraisal
Williams said Topps Tiles had gained "real momentum" over the past year. He said that a key part of the retailer's strategy was an ongoing "brand reappraisal".
"Everyone is clear on what we're aiming to achieve; we're getting people who haven't necessarily given us a try in our core locations and we want to push that even more".
As part of the rebranding the logo used on the boutique format is being gradually rolled out across the total portfolio, a move which will be complete by the end of this financial year.