TJX Europe, the parent company of TK Maxx and HomeSense, recorded a jump in like-for-likes as it prepares to roll out new stores.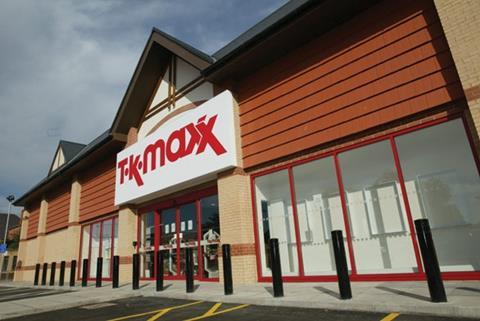 European like-for-likes increased by 6% during the second quarter ending August 2, while its adjusted net sales rose 13% year-on-year to $875m (£527m).
The company will open a 17,747 sq ft store at Westfield Stratford on September 4 as part of its store expansion plans.
At the end of its second quarter the company had 291 TK Maxx and 28 HomeSense stores in the UK & Ireland, and has plans for 309 TK Maxx and 33 HomeSense stores by the end of the financial year.
Globally TJX reported a 7% increase of net sales to $6.9bn for the second quarter, while consolidated comparable store sales rose 3%.
TJX Europe declined to break down sales for its UK & Ireland operation.
In Europe, TJX Europe operates in Germany and Poland in addition to the UK & Ireland and is targeting a total of 875 stores across the four countries.
The company also plans to open its first few stores in Austria in the first half of 2015.