Tesco's share price rose in the week that it launched its Big Price Drop, but the move hit the value of its food retail rivals.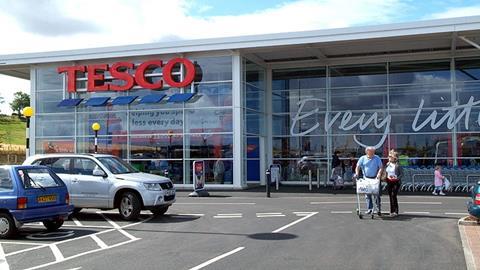 The company was one of the week's biggest risers after announcing a £500m investment in cutting the prices of 3,000 products. The price cuts are to be largely self-funded by reducing the level of promotions and ending double Clubcard points.
Shore Capital, recommending buy, said: "We expect some waves of sorts, but not a tsunami," adding that other action to improve the competitiveness of Tesco UK was required alongside the Price Drop.
The impact was less favourable for other grocers. Bernstein said: "The shift from promotions to EDLP will make it more costly for competition to price match given the price match promises are generally based on shelf pricing rather than net pricing after promotions."
Ocado's shares fell to a new low of 90p during the week, and both Sainsbury's and Morrisons also lost ground. Sainsbury's announces its second quarter trading next week, and Shore, advising hold, questioned whether its increased capital spending will hit returns. "We believe the market would probably prefer for Sainsbury to curtail its capex programme (at least in the short term), but that is something that few finance directors in the food retailing industry are allowed to announce," the broker said.
Turning to the general retailers, the biggest riser of the week was Game Group, despite a pre-exceptionals first half loss that came in above City expectations at £48.5m. The market was reassured by the management's commitment to invest 20% of their salaries in shares, and by the retention of the dividend. The company still anticipates it will meet its full-year forecasts, but Espirito Santo, advising sell, said: "We think it is still a very tall order for Game to meet market expectations in the current consumer environment."
Oriel Securities upgraded Halfords from hold to buy, despite next week's trading statement being "likely to be poor". The broker said the shares are cheap at the current level and "management is getting to grips with the errors it made in the latter part of the last decade".
There was no news on Kesa Electrical's plans for the future of Comet, but the Anglo-French group's major shareholder, Knight Vinke, which has been agitating for change at the electrical group, reduced its shareholding to 18.12%.
Long-serving Thorntons chairman John Von Spreckelsen is to step down. The chocolatier has kicked off a search to find a replacement for the former Somerfield boss.
Multichannel tiddler Flying Brands was the biggest faller of the week, after warning that it could breach its banking covenants. The company has agreed to sell a property in Jersey for £2.1m, which it said will "significantly improve our balance sheet".
Quoted company updates every morning, free to subscribers online