Tesco has warned its profits for the full financial year will not exceed £1.4bn, well below the £1.8bn to £2.2bn initially expected.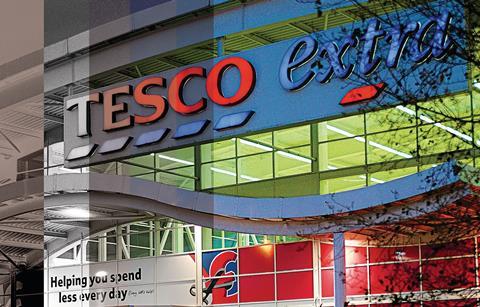 Mike Dennis, Cantor Fitzgerald
"This implies very little if any second-half UK trading profit. On our figures, we now expect second-half UK trading profit of £15m, down 98.6% and FY15E UK trading profit of £514m, down 76.5% and implying a UK trading margin of 1.2%.
"Management has added more staff hours and invested more in price and short-term money-off voucher tactics, but this implies UK grocery trading profit in the second half is negative due to lower sales on an already higher cost base.
"The recovery of the UK could take longer as we believe the CEO [Dave Lewis] needs to simplify the business via UK and international asset sales, then reconnect with suppliers by changing payment terms and lowering his cost of goods and then start on the long road to rebuilding the Tesco brand with shoppers.
"Tesco has the most developed multiformat strategy and is well placed in the convenience market so should benefit from this growth, but will need to redeploy space in hypermarkets to more productive use. All this could take several years and suppliers are not going to be disposed to Tesco given the negative industry volumes and poor performance of Tesco over the last two years."
Bruno Monteyne, Bernstein
"Most commentators expected next year to be the profit trough, with the new management team taking more time to get their ducks in a row and matching up the cost saving and price cuts together, and cleaning up accounts.
"This is bringing the account cleansing and a bit of the investment forward. From our initial discussions with the company, this is not about the start of a major price war. This links back to the "account stretching" we have described before.
"There are two elements of that: 1. Improvements in the way that supplier income is recorded (we would expect Tesco to have gone completely conservative on those practices) 2. Stop bad practices that happened at year-end and that we used to colloquially call "diving for the line": reducing stock and staff towards year-end to hit the profit number and several other last-minute actions close to year-end that all flattered the final accounts."
Neil Saunders, Conlumino
"Tesco needs to invest in both pricing and improving the shopping experience for consumers. When such investment is made against a backdrop of falling sales it will inevitably impact profitability. However, such a move is a necessarily evil; the price of failing to accept a reduction in profit would simply be the continued deterioration of the business.
"The question is whether or not the measures Tesco is now taking will allow it to increase its market share once again. The answer is that it could but it is by no means guaranteed. The competitive environment in grocery is so intense that it is not possible for all players to grow."
Tesco issues profit warning ahead of full-year results
1

2

Currently reading

Tesco issues full-year profit warning: What the analysts say