Sports Direct issued a shock profit warning to the City on Friday. Here's the City reaction.
"Sports Direct's profit warning suggests that the market share-loss trend continues apace and that could well start digging into margins.
"It is without doubt in our mind that some of the mud thrown by the press has stuck to the brand"

Jonathan Pritchard, Peel Hunt
"Our view is that the weather has simply served to accentuate the fundamental problems here.
"We have visited a number of core stores and continue to believe that there is too much of an emphasis on own-label product at the expense of third-party brands.
"Management is absolutely adamant that the slower sales growth is not a Sports Direct issue and is merely down to the sector conditions. We would urge Sports Direct to take a leaf out of Next's book and take a more 'mea culpa' approach.
"It is without doubt in our mind that some of the mud thrown by the press has stuck to the brand.
"Sports Direct simply has to overhaul the way it comes to market and that will take a long time, a lot of investment and a lot of shareholder patience.
"We anticipate very little growth for Sports Direct over the next three years as the investment required to galvanise the top line is made." – Jonathan Pritchard, Peel Hunt
–
"The issue for investors is assessing whether Sports Direct is just seeing the same weather-related impacts as others or any additional impact from the recent heavy negative publicity.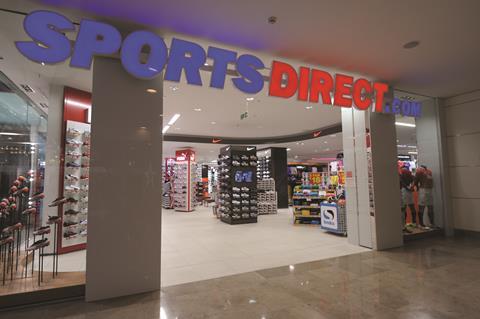 "Obviously none of this is positive for Sports Direct as an investment. But we would expect that it will lead to a major revisit to both the existing share scheme incentive targets and more importantly the thinking behind them.
"What Sports Direct appears to need now is to stabilise its existing operations and make its most recent European acquisitions work rather than have its strategic deliberations shaped by the need to make further acquisitions to grow EBITDA." – Tony Shiret, Haitong Research
–
"Recent trading updates by Sports Direct's fashion peers have confirmed the ongoing pressure in demand in recent weeks, both in the UK and in Europe.
"Nevertheless, even if we assume there will be another four months of unseasonal weather the adjusted EBITDA target of £380m could still be strongly offset by the sizeable budget for staff bonuses.
Whether this is an indication that Sports Direct is unwilling to adjust staff incentives more in-line with the profits remains to be seen." – James Grzinic, Jeffries Europe