Sports Direct's boss Dave Forsey has said the group is still active in the acquisitions market despite missing out on deals in the last year.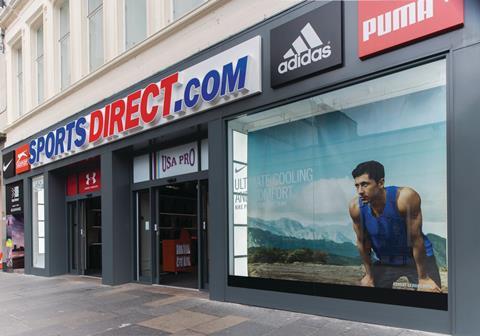 The Mike Ashley-owned leisure retailer has failed to convert an undisclosed number of acquisition deals of late, the most high profile being its attempt to take over House of Fraser. It has resulted in Sports Direct cutting its profit target for the year by £60m.
Chief executive Dave Forsey told Retail Week today: "You look at a lot of deals, you hope to get close. You hope to pay the right price. But occasionally you get a period in the cycle when you don't get over the line."
Forsey said he had been "hopeful and expectant" over acquiring House of Fraser, but maintained "that's the nature of M&A".
"We are still extremely active and confident the deals will come"

Dave Forsey, Sports Direct
He added: "Going forward we are still extremely active and confident the deals will come."
Forsey made the comments as Sports Direct revealed underlying full-year pre-tax profits jumped 20% off the back of a 4.7% rise in group sales.
Around 2,000 of the retailer's permanent staff will be eligible for a significant bonus if the new profit target is hit. However the remaining 17,000 members of its workforce will not.
Zero-hours
The retailer defended its use of controversial zero-hours contracts, claiming that reports had been "unfounded and inaccurate".
Forsey talked up the benefits of the contracts saying they suited many of its workers, like students.
But he admitted it is "frustrating" that Sports Direct is singled out when it comes to their use. "It's something we have to live with," he added. Around 75% of Sports Direct's staff are on a zero-hour contract.
Forsey also shrugged off the impact of the government's new living wage, which will mean workers over 25 have to be paid £7.20 an hour from next April. He said Sports Direct's £300m wage bill will increase between 1% and 2% due to the change.
The "majority" of Sports Direct's "casual workforce" are under 25, but Forsey declined to give an exact figure.
On click-and-collect, the Sports Direct boss said that 20% of online sales are now collected in store which he admitted was "surprising" given the service was only launched in January.
European market
Turning to its international business, Forsey said that Sports Direct's bid to "re-build" the business model of Austria's Eybl & Sports Experts, which it fully acquired last year, is taking longer than anticipated and will need more investment.
"[The business] was more broken than we realised," said Forsey. Some of Eybl & Sports Experts stores will be rebranded to Lillywhites.
Sports Direct now operates in 20 European markets, with Switzerland being the most recent entry for the group.