The Treasury has advised businesses to start preparing now for the introduction of the new £1 coin.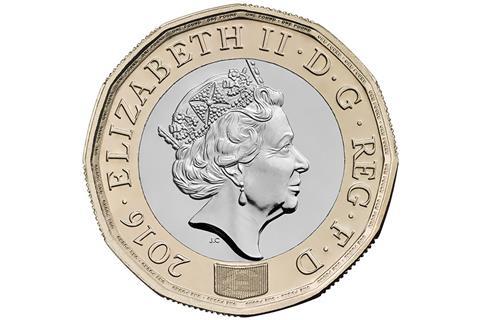 A new website has been launched to urge retailers and vending machine operators to adapt their equipment and train their staff before the new 12-sided coin comes into operation in March 2017.
All machines accepting cash will have to be updated, but for a six-month transitional period, businesses will need to accept both the old and new coins.
The new coin is being introduced because the Royal Mint estimates that around one in 30 pound coins currently in circulation is fake.
It says the new coins are harder to counterfeit.
During the "co-circulation" period, the website – thenewpoundcoin.com – suggests that businesses should accept both the old and new £1 coins and keep customers informed of which coins they can accept.
After autumn 2017, retailers can no longer accept the existing round £1 coins and should not distribute it themselves.
It will still be possible to deposit the old coins at high-street banks and the Post Office, however.
Chief executive to the Treasury David Gauke said: "The new £1 coin will be the most secure of its kind in the world and its cutting-edge features will present a significant barrier to counterfeiters, reducing the cost to businesses and the taxpayer."