The overall market was up but retail shares were down over the week, with a raft of bad news and concern about consumer confidence hitting the stores sector.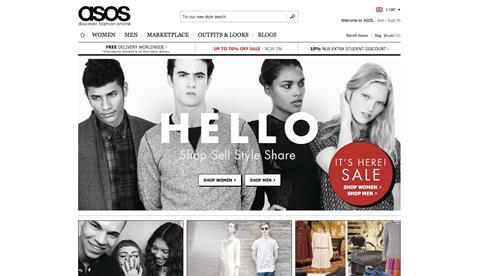 Home Retail was among the biggest fallers ahead of interim results, which showed a 70% fall in first-half profits, with Argos's operating profit almost wiped out with a 94% fall. The shares fell a further 12% on Wednesday morning following the publication of the results, despite the announcement of a joint venture to set up a multichannel business in China.
Hold, says Seymour Pierce, which said it anticipates a restructuring programme being put in place next year. However, it warned that "we continue to have significant reservations on the long-term outlook for both the Argos and Homebase businesses".
Online fashion giant Asos also fell over the week following a trading update, which showed that while the growth in sales in the UK had almost ground to a halt, international growth remains strong with sales up 141% in the second quarter.
Buy said Numis, noting: "Asos has achieved a huge amount over the last quarter and, although the UK has slowed, at least in part due to an evolving focus towards a sharper fashion proposition, the strong international growth sees us raise our full-year sales forecast."
Kesa was another faller over the week, amid reports that Dragons' Den star Peter Jones is being lined up to chair Comet should Hilco succeed in buying it. It is understood the process is unlikely to be resolved this week.
There were some good news stories, however, with Sports Direct reporting continued strong growth (see box above) and WHSmith reporting a 4% increase in full-year profits in spite of sales being down 3%. Its travel division recorded record profits in the period.
Investec is one of the many City fans of the stock, recommending buy. "WHSmith has a number of characteristics that we believe investors should favour – specifically defensive, international exposure and self-help," it said.
Kingfisher, now the third largest quoted retailer by market capitalisation, was in the spotlight. Singer upgraded its forecasts following a meeting with management, impressed with the potential of self-help initiatives, particularly around sourcing, and its healthy balance sheet.
But the broker urged investors not to buy just yet. "Fears about a global slowdown and French austerity could yet create a better entry point for this stock," said analyst Matthew McEachran.
Mothercare remained out of favour following its profit warning and the departure of chief executive Ben Gordon last week. Investec slashed its target price from 390p to 184p and warned that "with the departure of chief executive Ben Gordon, the company could find itself in strategic limbo".