Pets at Home reported a like-for-likes increase after strong performance from its loyalty programme. We speak to chief executive Nick Wood.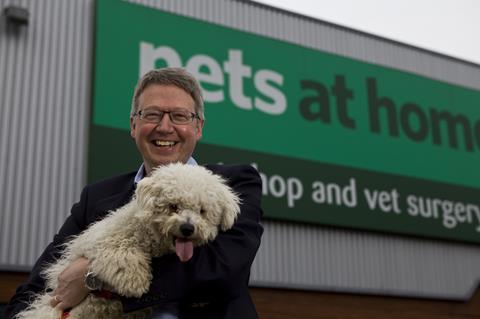 Why are people becoming more engaged with the VIP Club loyalty programme?
It is very different from a typical loyalty programme because the core benefit of you swiping your card is not for you individually as a customer. It is about supporting local and national rehoming charities.
Alongside that the information we receive allows us to do more targeted marketing. We are the only retailer that knows not only what you buy but what pets you have. If you sign up you get mailings addressed to your pets.
Why is rolling out 'deliver to store' by August a priority?
If you are in one of our smaller stores that has 4,500 SKUs you are suddenly able to offer that customer the chance to come in the next day and pick up any of the 9,000 SKUs we've got online.
It is expanding the walls of our shops by providing a greater product range. Click and collect is across our estate but only on stock already in the store. If you wanted stock that wasn't in the store today you would have to click and collect at another store.
You could argue there was a bit of a fault line in it before in that you could only collect what was in the stores. This is part of allowing customers to buy where they want to buy from us in the most efficient way.
Where does your upmarket Barkers fascia fit into the store expansion plans?
We are looking at opening 25 Pets at Homes stores for the year and we are in good shape with that and we are looking at over 60 veterinary practices and over 50 Groom Rooms. The Barkers trial is in the north west and we are looking at various opportunities but Barkers itself has a proposition we think would work very well in the South East and London.
Has the company's culture changed since the float?
The strength of our business is we do what we say we will do and whether we are private equity company or public company that is what we need to continue. That runs right the way from colleagues in stores, to distribution to the support office. It is my challenge to make sure we manage our shareholders in the right way.
Are you positive about the state of the market?
From a consumer confidence I'm cautiously optimistic because we can see some growth coming through from a GDP perspective but the thing that continues to make me cautious is our core customer isn't feeling richer in his pocket yet.
Infographic
What are Pets at Home expansion plans?