The accountancy firm responsible for auditing BHS' accounts ahead of its controversial £1 sale and subsequent collapse has fined a record £6.5m.
The Financial Reporting Council said PwC and Steve Denison, the senior accountant responsible for the audit, have admitted misconduct.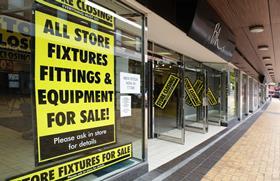 Denison, a partner at the firm for more than 30 years, has received a personal fine of £325,000. He has been banned from the profession for 15 years. He left PwC earlier this month.
PwC has previously said the failings of its audit did not contribute to the demise of BHS in 2016. The high street chain collapsed after being sold by then owner Sir Philip Green to Retail Acquisitions, led by Dominic Chappell, who has been bankrupt multiple times.
It later emerged Retail Acquisitions took £9m out of BHS ahead of its bankruptcy and the loss of 11,000 jobs. The chain also had a £571m black hole in its pension scheme.
PwC has received a "severe reprimand" and accepted a condition that its Leeds audit practice be monitored and provide detailed annual reports to the FRC for the next three years.
In a statement, PwC said: "We recognise and accept that there were serious shortcomings with this audit work and that it is important to learn the necessary lesson. We are sorry that our work fell well below the processional standards expected of us and that we demand of ourselves."
PwC's fine was initially set at £10m and Denison's at £500,000 but both were reduced for early settlement.