Primark expects sales to jump 13% for the year after a significant store expansion, while like-for-likes were impacted by the warm autumn.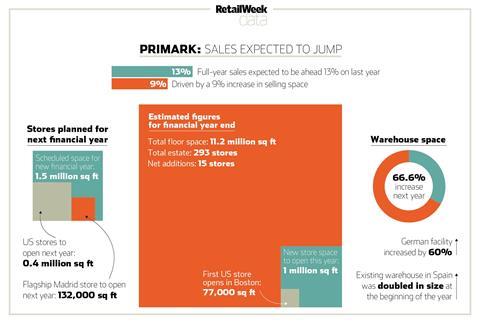 Sales at constant currency expected to jump 13%
Like-for-likes to edge up 1% after unseasonably warm autumn
Primark is launching in the US this week
In a pre-close trading update, Primark owner Associated British Foods (ABF) revealed it expected the retailer to achieve a 1% increase in like-for-likes for the year ending September 12.
Primark has recorded "very high" sales densities from stores that opened in the last 18 months, particularly by its French stores.
The retailer added that France has been its "most successful new market entry to date".
The 13% increase in sales at constant currency came as Primark increased its selling space by 9%.
During the financial year Primark has opened almost 1m sq ft of selling space, bringing the total estate to 293 stores and 11.2m sq ft.
Primark is gearing up for its expansion into the US as it prepares to open a store in Boston this Thursday.
The retailer has an "extensive pipeline of new stores" lined up for the next few years. Some 1.5m sq ft of new store space is scheduled for the upcoming financial year, primarily in the northeast of the US, the UK and Spain.
The US will comprise seven stores, totalling 400,000 sq ft, most of which will open later next year, while Spain will include a flagship 132,000 sq ft, store on Gran Via in central Madrid.
Primark reveals that the UK will deliver a positive like-for-like performance this year despite challenges posted by the unseasonably warm autumn and a spring trading period held back by cool weather.
The retailer's operating profit margin is expected to be lower than last year as a result of the higher level of markdown and a strong US dollar.
Next year Primark is set to relocate its Magna Park warehouse in the UK to a larger site at Islip in Northamptonshire, close to an existing warehouse at Thrapston.
This will incur some dual running costs for a "short period".