Pets at Home's Christmas likes-for-likes are up 2.2% and it is piloting a new format called Whiskers 'n Paws. Here's the City's reaction.
"Pets at Home experienced a softening in growth over the third quarter compared to last year, notably in terms of like-for-likes. But overall its impressive track record continued, through fast growth of services, development of store formats and a resilient merchandise performance.
"With discounters increasingly tapping into demand at the basic end of the market, Pets at Home needs to stay ahead of the curve"

George Scott, Verdict Retail
"Pets at Home's evolving services offer was again the standout performer. 15 new grooming stations and 6 new veterinary practices were opened during the quarter adding further under-one-roof appeal to stores and strengthening its positioning in areas where non-specialists such as the grocers, discounters and pure-plays like Amazon and pet-supermarket.co.uk cannot easily compete.
"The retailer also added weight to its footprint by opening 7 new Pets at Home superstores and one dedicated dogs store under its Barker fascia, as well as launching a trial 'Whiskers 'n Paws cats and dogs store.
"This provides it with a broader estate across 417 stores as it looks to achieve its mid-term target of 500 stores.
"Pets at Home's core merchandise sales were still promising despite a marked drop in like-for-likes. Strong sales of Advanced Nutrition were reported, while sales in health and hygiene recovered.
"But with discounters such as the pound stores, B&M and Home Bargains increasingly tapping into demand at the basic end of the pets market and the grocers and Amazon having well-segmented offers, Pets at Home needs to stay ahead of the curve by investing in product innovation.
"This will help balance out the need to compete on the price of pet food and accessory staples, and provide its positioning with some important insulation from the raft of non-specialists." – George Scott, Verdict Retail
–
"Today's update is encouraging. Management has reiterated full-year guidance and we expect a positive reaction in the shares.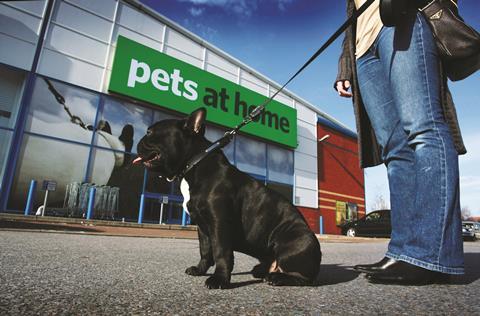 "Importantly, merchandise like-for-like growth has picked up from the first half, with the health and hygiene category recovering. This should help reassure that the recent weakness was a trading 'blip' rather than anything else.
"Other key product categories continue to show good growth, the roll-out programme remains on track to hit full-year targets and growth in loyalty scheme members remains solid.
"The reporting over the important Christmas period reflects strong execution from management and should give comfort on full-year numbers. We remain positive on the long-term growth prospects for Pets at Home." – Adam Tomlinson, Liberum
-
"Pets at Home reported third quarter group like-for-like sales growth of 2.2%. This was driven by advanced nutrition, omnichannel and a strong performance in vet and grooming services.
"We see the re-acceleration of like-for-like growth to 2.2% as a particularly positive given the context of a tough reporting period for retailers. Against this backdrop, we believe these numbers highlight the resilience of the pet and veterinary markets.
"Furthermore, growth continues to be driven by the services division, with the latest acquisition further evidence of the consolidation opportunities in that sector." - Rob Joyce, Goldman Sachs
-
"Total sales increased 7.1% to £195.1m, with food still growing ahead of accessories in our view.
"Unseasonably warm weather would have impacted certain categories (like pet fashion accessories etc.) but we believe the overall inventory position remains stable.
Services revenue increased driven by new store openings and the maturation of joint-venture vets and groomers.
"Pets at Home continues to increase penetration of both vets (55%) and groomers (49%) in-store, providing it with a sustainable differentiation and enhancing its specialist credentials.
"Pets at Home opened nine new stores (including one Barker store, one Whiskers 'n Paws), six veterinary practices and 15 Groom Rooms in third quarter 2016 and has maintained its full year guidance to open at least 20-25 new stores, 50-55 new vets and 55-60 new Groom Rooms.
"Pets at Home is trialling a new high street concept (Whiskers 'n Paws by Pets at Home) to complement its superstores and maintains it long-term target of 500 superstores in the UK.
"In line with its strategy, Pets At Home acquired Anderson Moores – a specialist referral hospital in Winchester – to increase its presence in vet market." – Tushar Jain, Maitland