Clarks' group pre-tax profit has topped £100m for the first time in its 185 year history despite a "challenging" UK market.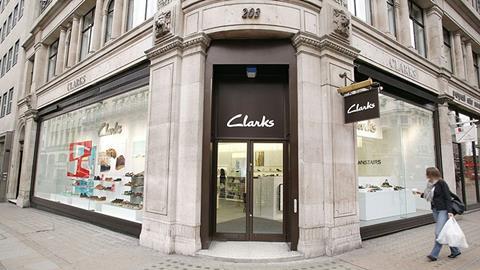 In documents seen by Retail Week, pre-tax profits soared 28% to £108.7m in the year to January 31, bouncing back after a 2% dip the year before. Group turnover grew by 9.2% to £1.28bn, which chief executive Melissa Potter attributed to an increase in sales volumes coupled with a rise in average selling prices as it developed a more premium product mix to counteract input price rises.
However, operating profits at Clarks International - which includes the UK and all markets other than North America - were down by 1% to £93m, due to the challenging UK market. Like-for-like sales rose by 0.5% and Clarks saw success with its men's footwear and its kid's core school footwear business, which set new volume records.
Potter highlighted the uncertainty surrounding the economic situation globally and said that despite an impressive year in North America - where operating profits rose 91% to £54.9m - economic indicators were mixed. She said: "I would expect trading conditions in our home market to remain decidedly challenging throughout 2011/12."
Potter said rising labour costs in China and Vietnam would inflate product costs by an average 20% in Clarks International this year but that volume growth and selective price changes would mitigate the effects.
Clarks International's wholesale business was resilient, with turnover up 2.9% and underlying profits increasing by 6%.
The footwear giant's wholesale sales for spring rose 15% in international markets, and 40% in North America. For the first time more than 50% of overall sales were generated by markets outside of the UK, a trend Potter said she could see continuing over the next few years.
Clarks launched in China 20 years ago and opened its first stores in India in Delhi, Mumbai and Bangalore last month. Potter said the emerging global economies of China, India, central and Eastern Europe had strong potential.