Investor appetite this week for food retailers was keen but general retailers were shunned, despite almost without exception beating Christmas expectations.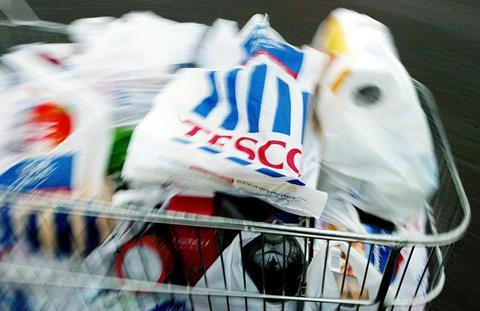 But profit taking after store stocks' stellar rise last year was prompted by fear that the consumer economy is tightening and 2010 will bring continued tough trading conditions.
All the grocers' good Christmas performances combined with their defensive qualities and the fact they were overlooked for much of last year sent their shares ticking up.
Collins Stewart initiated coverage of Tesco, Sainsbury's and Morrisons with recommendations of buy, sell and hold respectively.
Although Tesco's UK sales growth may become more modest, the broker said the growing importance of international operations and services such as banking will become increasingly important. Analyst Greg Lawless said Tesco is undervalued compared with its global peers.
He said Sainsbury's is "fundamentally a sell" and noted: "Sainsbury's continues to deliver sales growth, however, with declining food price inflation combined with tougher comparatives, we are now well beyond the high water mark of like-for-like performance."
Morrisons is "a steady ship but going nowhere fast", the broker said, cautioning: "We see the outperformance against the market slowing and reverting to more average market growth in the near term."
Ambrian increased its Tesco price target from 500p to 700p. The broker expects earnings to double over the next five years, "driven by a shift from Old Tesco to New Tesco", and said: "We forecast that retailing services and international will contribute £3bn to profits by 2014/15 when it will be bigger than Old Tesco. Investors can currently buy New Tesco for virtually nothing. We are increasing our target price as we expect the share price to catch up with the opportunities."
Broker Bernstein also prefers Tesco over Sainsbury's and Morrisons. Analyst Chris Hogbin said: "With continued uncertainty in the economic and consumer outlook we prefer stocks where we see solid earnings growth prospects with strong and stable positions in core domestic markets coupled with faster growth potential from focused international markets and services businesses, or companies with potential to drive earnings growth by putting their balance sheet strength to work."
Chocolatier Thorntons' Christmas performance was hit by comparison with the previous Christmas, which included sales to Woolworths and Birthdays - the former now gone and the latter subsequently put into administration.
But the retailer was able to report that interim profits will be better than last year's. House broker Investec increased its full-year forecast 4% and said: "Thorntons demonstrated its ability to protect margins in an extremely competitive environment this Christmas."