In a world where Next is finding trading tough, you have to feel for the rest of the apparel market in what has been a challenging year so far.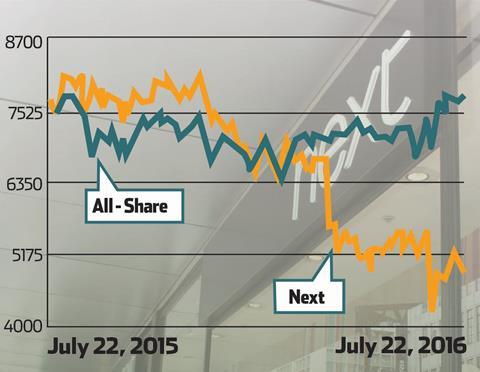 A combination of poor weather that ruined the beginning of the spring/summer season and the uncertainty surrounding the EU referendum, both before and after the vote, has left fashion retailers reeling.
On Wednesday we will gain a greater understanding of how the last three months have gone for Next when it updates on its second quarter. The bellwether of fashion retail – even retail in general – has posted disappointing figures in recent months.
In its first quarter it reported an uncharacteristic dip in total sales of 0.2%. Full-price sales slipped 0.9%. Next does not give like-for-likes, although analysts estimated they may have tumbled by as much as 8% last quarter.
So what can we expect from its update this week? More of the same, according to Next, which widened and lowered its full-price sales guidance range to -3.5% to +3.5%, from -1% to +4%, on the back of the weak first quarter.
"There's very little that can be done about the weather or consumer sentiment, but there is a huge amount that can be achieved through self-help"

Nicola Harrison
The retailer blamed the poor weather and weak demand for clothing, given consumer uncertainty over the first quarter. And neither have improved much since then.
We may have been basking in glorious sunshine for a couple of weeks now but let's not forget the wet and dreary June which dampened clothing demand further. And when it comes to consumer confidence, if anything it has been shaken further as shoppers digest the Brexit result and what it may mean for them.
Next boss Lord Wolfson's words earlier this year unfortunately seem to be ringing true. He said he expected the coming year to be the "toughest" since 2008. And that was before the shock of Brexit.
Look inside
The no-nonsense Wolfson has since urged UK business to "trade our way out of this mess" and said the retailer will not alter its investment plan following the vote.
That investment plan ought to include a more inspiring product mix, according to some, while others have argued Next's once market-leading logistics operation is not what it once was.
While external factors have played a huge part in Next's recent slowdown, it must ask questions of its own business to see where its weaknesses lie in order to give it a renewed competitive advantage in this most difficult of markets.
It may be a painful process, but Next's more challenged peers in the fashion industry must also examine their own businesses. After all, there's very little that can be done about the weather or consumer sentiment, but there is a huge amount that can be achieved through self-help.
And the best retailers will be looking at whatever levers they can pull to ensure they stay ahead, rather than crossing their fingers that the sun shines.
Nicola Harrison is content editor of Retail Week