Mountain Warehouse sales and profits for the year have surged as it benefits from the cycling craze and its rapidly expanding ecommerce business.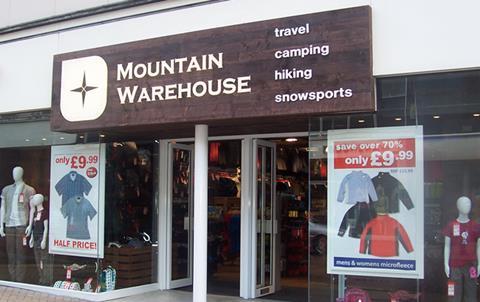 Mountain Warehouse pre-tax profits up 25%
Cycling sales grow at double rate of overall business
Retailer to open 40 stores this year
The outdoor retailer's pre-tax profits increased 25% to £12m for the year ending February 28, while sales increased 20% to £109.9m.
Like-for-like sales grew by 9% and online sales surged 50% and it now delivers to over 130 different countries. Some 25% of online sales now come from outside the UK.
Sales of the retailer's cycling and running range grew more than twice as fast as the business overall, up 43% year on year.
Mountain Warehouse founder and chief executive Mark Neale said: "We are scaling new heights – in our stores, online and increasingly overseas. We have continued to thrive in a challenging UK retail environment, demonstrating that high-street retail can succeed so long as you have the right products at the right price.
"Our online offer has also been a big part of our success, demonstrating that our 'bricks and clicks' strategy is a winner. Over the next year, we plan to continue this success by opening 40 new stores, with a particular focus on ramping up our international expansion."
Neale reveals that trading in the new financial year has kept up the momentum from its last financial year. Its tent and camping range sales have increased more than 100% year on year as festival season gets underway.
Mountain Warehouse opened 34 stores and created 200 new jobs in the most recent financial year.
The retailer added its stores in garden centres have been a significant growth area with 12 opening in 2014/15 as it seeks to reach new shoppers and locations.