Private equity firm LDC acquires stake in fast-growing outdoor gear specialist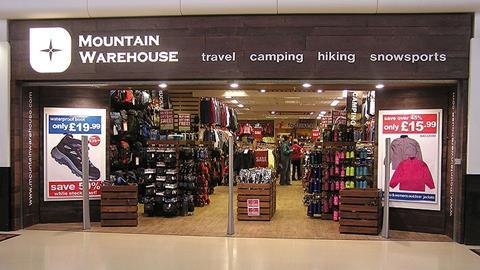 Private equity firm LDC has bought into fast-growing outdoor gear specialist Mountain Warehouse in a deal valuing the retailer at £50m.
LDC - part of Lloyds Banking Group - has acquired a stake of about 23% in Mountain Warehouse from Icelandic fund Kcaj, and will back founder and majority shareholder Mark Neale's strategy. Neale said the deal would provide investment cash as well as buying out Kcaj.
Following the deal Maplin chief executive and former Card Factory chairman Keith Pacey has joined Mountain Warehouse as chairman. He will advise on the development of the business and roll-out of Mountain Warehouse stores. The 110-store retailer intends to reach a total of 200 over the next few years.
LDC director Carl Wormald said the private equity house was attracted by the strength of Mountain Warehouse's management team, its differentiation from rivals and value-for-money positioning.
He said there may be an opportunity for international expansion and that the trend in the UK towards holidaying at home was also likely to benefit Mountain Warehouse.
In its last financial year Mountain Warehouse's pre-tax profits soared 100% to £3.7m on sales up 50% to £47.5m. The retailer, founded by Neale as a single shop in 1997, intends to open between 20 and 30 more shops this year.
Mountain Warehouse has generated strong returns for investors in the past. Kcaj bought into it in 2007 in a £15m deal that netted former backer NBGI Private Equity a return of six times the original cost of its investment and an internal return rate of more than 50% a year.
Kcaj and associated business Arev were subsequently destabilised by the Icelandic financial crisis. Although Mountain Warehouse was unaffected, it is understood that the stake sale is part of the unwinding of Kcaj's positions.
Kcaj will make a return of more than three times its original investment from the sale of Mountain Warehouse and proceeds will help ensure a full return to creditors who backed a voluntary restructuring of the fund in February last year.
The Mountain Warehouse deal is the latest evidence of keen investor interest in privately owned outdoors groups, which have thrived despite the travails of publicly quoted Blacks Leisure.
Last month serial dealmaker John Lovering joined 25-store Go Outdoors as chairman. He will help the £75m-turnover retailer "accelerate growth", raising the prospects of an eventual sale or IPO.
LDC's other retail investments include Modelzone, which it bought last year, and American Golf. Earlier this year it sold Card Factory to private equity counterpart Charterhouse for a reported £350m.