Majestic Wine has reported a 22.5% slump in pre-tax profits as its boss sets about turning around the retailer. Here is what the analysts say.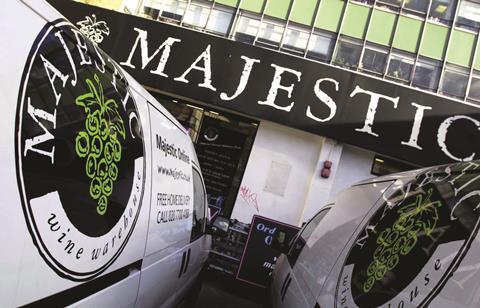 "After the deal (Majestic and Naked Wines) was announced in April, today has brought the City back down to earth, with the warning that things will get worse before they get better.
"Today's finals from Majestic Wine, while disappointing, with adjusted pre-tax profit down from £23.8m to £20.9m, are broadly as expected." Nick Bubb, independent analyst
–
"We remain excited about the Naked Wines business and see the longer-term growth potential of the group as being undervalued.
"The full-year results were in line with downgraded numbers, but that is largely academic given that we believe the recent acquisition of Naked Wines transforms Majestic's long-term growth profile.
"The focus of strategic review is to drive sustainable volume growth from Majestic and up the growth rate of Majestic Commercial and Naked Wines. We believe the plan and initiatives should address most of Majestic's trading weaknesses, while strengthening its business model and market position.
"Testing a single bottle minimum purchase and plans to invest in range, staffing, IT & infrastructure are key focus areas, along with unlocking working capital efficiencies. The strategy will take three years to deliver, though we would expect to see financial benefits earlier.
"Naked Wines' long-term growth is attractive. Its approach to customer acquisition costs (fully expensed in P&L) hides the latent profitability within the business." Alistair Davies, Investec
–
"We view the acquisition of Naked Wines as transformational for the group, moving the investment case away from a traditional store roll-out model to one that offers investors international growth and a proven online model.
"While one needs to take a medium-term view for these to be delivered, we feel the potential upside far outweighs the short-term disruption of the acquisition and new strategy." Wayne Brown, Liberum
–
"The last few years have been tough, with profit growth stalling. The Naked acquisition and the appointment of Naked founder Rowan Gormley as group chief executive provides an opportunity for a fresh take on what we believe is still a fundamentally sound business.
"The results are largely in line with the guidance given in April." Mark Photiades, Canaccord Genuity