John Lewis Partnership has cut its company-wide bonus to 11% after annual pre-tax profits fell 9% because of intense competition in the grocery sector.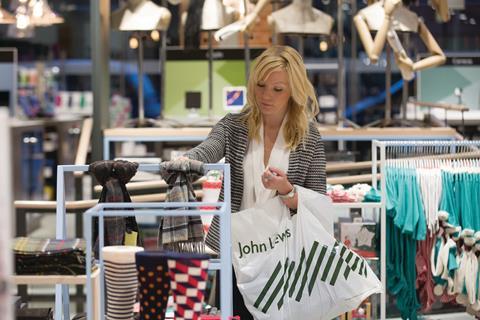 Pre-tax profits fell to £342.7m for the 53 weeks ending January 31 as its bonus fell from 15% last year. The bonus was 17% in 2013.
John Lewis Partnership chairman Sir Charlie Mayfield said: "'The partnership achieved a strong sales performance, with increased market share in both Waitrose and John Lewis, and customer numbers up by 6% and 4% respectively."
Waitrose recorded a 23.4% fall in operating profits to £237.4m, while across the 52-week period operating profits fell by 24.4%.
The business said profits were held back by a highly competitive and deflationary market, a significantly higher level of investment and the impact of one-off items such as the property impairments.
Waitrose increased sales by 6.5% to £6.51bn during the period, while on a 52-week basis sales rose 4.6%. Like-for-likes were up 1.4%.
However, in the first five weeks of the new financial year trading has deteriorated at Waitrose, as sales edged up just 0.9% and like-for-likes fell 2.8%, excluding petrol.
Waitrose managing director Mark Price said that was partly a result of tough comparables with last year, when the grocer ran a successful online promotion, but also a result of the deflationary market. He said the volume of customer transactions was "flat or marginally up" in the period.
Price said he expects Waitrose to return to like-for-like growth this year.
He said the price deflation in the market, primarily driven by the discounters, has had a "material affect" on sales and profits. Waitrose has reduced the price of certain products in line with the market, including slashing the price of milk from £1.39 to £1.
Price said he is facing the "biggest challenge" of his career but added he will focus on his own customers rather than what rivals are doing. "Our focus is to look after our customers," said Price. "Waitrose is playing its own game."
Price said the drop in profits was not just down to deflation, but also a "changing market". He said Waitrose had invested last year in the store experience and also IT.
He said he expects the online business to double in the next five years and convenience to increase by a third.
John Lewis increased gross sales by 9.2% during the period to £4.43bn, but that was reduced to 7.5% on a 52-week basis. In the five-week period sales were up 3.7% and jumped 2.6% on a like-for-like basis - an improvement on the 2.2% increase recorded across the year.
Operating profits for John Lewis rose 7.5% across the year and by 10.8% to £250.5m for the 53-week period.
Fashion sales were up 8.3%, home up by 7.2% and electricals up by 7.9%.