JD Sports Fashion doubled its profits in the six months to August 2 as the retailer's sales jumped 27%.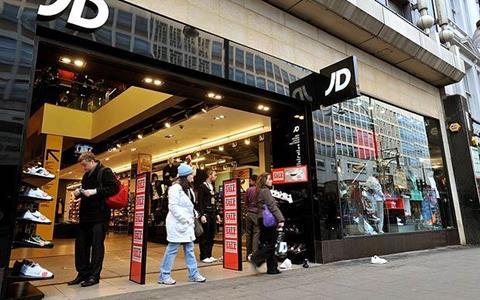 The retailer generated profits before tax and exceptionals of £20m, up from the £10m it generated in in the same period last year.
Sales came in at £721.5m, driven by its sports fascias, which delivered an "excellent first half", according to JD.
Group gross margin decreased in the period from 48.8% to 47.6% owing to increased participation of lower margin sales online, increased provisions made in fashion against slow moving stocks, and the impact of lower margins in its outdoor business Tiso.
Operating profits before exceptional items increased from £26.1m to £34.8m in the sports division. All of its sport fascias benefited from the trends for branded athletic footwear. Like for likes across combined European sports fascias were up 13%.
However, the fashion arm performed less well. A disappointing performance at Bank contributed to operating loss before exceptional items growing from £6.8m to £8.2m. However, this does include £700,000 of costs relating to the launch of its new 'Open' fascia.
JD said its Bank business "is capable of delivering an improvement in results from this half" as the new autumn lines come into store. They will be the first full ranges under Gwynn Milligan, who was appointed as managing director last year.
Within JD's fashion division Scotts "performed well" and its "branded fashion authority remains popular with its core demographic", the retailer said.
In its outdoor business operating losses reduced from £8.9m to £5.6m after "considerable progress made in Blacks and Millets". JD said both brands have benefited from the operational changes made in the previous year. "The two fascias now have clear and distinct propositions," JD said.
Like for like sales were up 12% in the outdoor division.
JD invested in its outdoor business in the half, acquiring 14 stores trading as Oswald Bailey to extend its reach in the South of England for its Millets brand. JD also acquired Ultimate Outdoors in the North of England, a "logical fit" with JD's Blacks fascia.
The retailer subsequently opened a new format 'Ultimate Outdoors' store in Preston where it has combined its outdoor offerings in a larger space.
JD executive chairman Peter Cowgill said: "The Group has delivered record results for the first half with encouraging progress in the principal areas of the business, notably our UK and European Sports fascias. I am also pleased with the positive progress in our Outdoor business, particularly since the move to our central facilities was only completed in July last year. Fashion continues to disappoint, albeit trading more positively in the second quarter. The second half of the year is traditionally stronger for the Fashion fascias.
"Our Sports operations continue to provide the engine for profit growth and cash generation in the Group and will therefore continue to be the primary focus of investment.
"The Board recognises the demanding comparatives of the second half of the last financial year, particularly in the core UK and Ireland Sports fascias where like-for-like sales increased by 11.2%, as well as our significant dependence on Christmas trading but following the robust performance of the business in the first half believes that the Group is well positioned to deliver results towards the upper end of current market expectations."