Total retail sales increased in both value and volume in January making it the highest year-on-year growth since December 2016.
Total sales volume excluding fuel rose 4.2% and value rose 4.5% in the four weeks to January 26, up 0.9% and 1% respectively compared to the previous month, data from the Office for National Statistics shows.
Volume of sales saw a slight increase of 0.7% in the three months to January 2019 compared with the previous three months.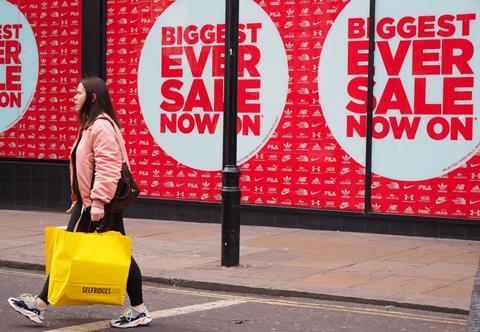 Online sales as a total of all retail declined 33.3% month on month as the January discounts failed to compete with Christmas sales but year-on-year figures showed a 9.8% increase.
Barclays Corporate Banking head of retail and wholesale Ian Gilmartin said: "Retailers will cheer today's retail sales data but the overriding emotion is probably one of relief at a successful end to the festive shopping period.
"The start of January was the primary reason for the overall positive result with many retailers setting discounts at a level that helped pull shoppers into their stores and get the tills ringing.
"Our retailers show time and time again that they are able to prevail when facing significant challenges and by beating expectations last month they've got 2019 off to a strong start."
However, Gilmartin said total sales were just "one half of the story" and heavy discounting would have had an impact on profit margins. he added: "Generous price cuts aren't sustainable in the long-term, so it remains to be seen how the industry will perform now that the Christmas chaos is behind us.
"That shouldn't detract from today's result, but there will certainly be no complacency in retail boardrooms this morning."