Home Retail CEO John Walden has defended the investment in Argos's same-day delivery by claiming it is vital for the business's "long-term health".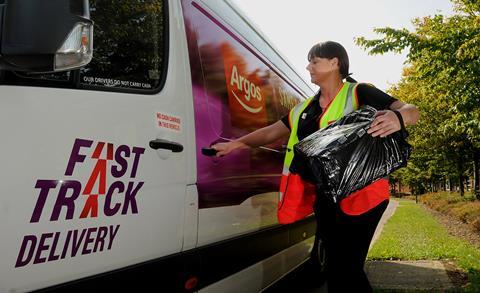 The retail group warned this morning that full-year profits will be below market expectations after an increased level of investment in the launch of its Fast Track same-day delivery service.
Investment has been poured into building the infrastructure, hiring drivers, leasing vans and increasing marketing spend as it bets on Fast Track giving Argos a competitive advantage.
Walden said: "We have made the bet because even though in the short term we do not expect the take up of Fast Track to be extraordinary enough to cover all the costs, which would never be the case; it will certainly build over time.
"We believe for the long-term health of the business it was the important thing to do."
Haitong analyst Tony Shiret published an inflammatory note this morning following Home Retail unveiling its half-year results, which was headlined 'Are we seeing the next Comet etc?'.
In the note, Shiret asks if Argos will go the same way as now defunct retailers including Comet and Woolworths, before asking "or will the digitisation give it sufficient flexibility and pricing power to mitigate the issues likely to be faced by its traditional customer base?".
Walden dismissed the analyst note as "ridiculous" and said he feels "very good about the strategy because of the advantages we have got and the response customers are having, not to mention the strength we have as a business financially".
He added: "Fast Track is a product of a transformation strategy we put in place three years ago and at that time Argos was a struggling business; and in fairness, if the business had not done anything and continued to compete as a catalogue-based retailer for price with its traditional customer set, I think the prospects were pretty poor."
Home Retail revealed that its store in Camden, North London, which serves 240,000 addresses, has delivered to embassies in Mayfair and Knightsbridge as Argos broadens its appeal.
Fast Track cannot be emulated by most rivals because of Argos's large store base, according to Walden. He said: "If you don't have local stores in every community, what do you use for collection? Do you use a courier to pay £6 to ship it?
"If you don't have stock sitting in the local markets, how do you get it to people really fast? Of course Fast Track is an investment, but you have to decide to compete to try and win online or keep up with people."
The retail group reported a mixed first half as benchmark pre-tax profits at Argos slumped £5.6m, or 47%, to £6.4m as Homebase increased profits £6.5m, or 23%, to £34.3m during the half year to August 29.
Overall benchmark pre-tax profit increased 10% to £34.1m during the period, while group sales at Home Retail dipped 2% to £2.6bn.