Hamleys pre-tax profits fall to £761,000 over shortened 2015 financial year
Toy retailer's sales came in at £56.6m over the 10-month period
Hamleys shells out £1m in costs during C.banner's £100m acquisition
Hamleys pre-tax profit reported a fall in pre-tax profits after the cost of its Chinese takeover dented earnings.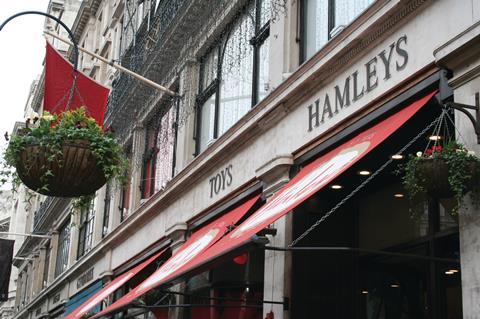 The toy specialist spent close to £1m on fees during Chinese footwear retailer C.banner International's £100m acquisition of the business last October.
The costs drove Hamleys pre-tax profits down to £761,000 over the 10 months to 31 December 2015. This compared with a profit of £1.7m in the previous year, which covered a 15-month trading period.
Hamleys' sales, including its growing international business, came in at £56.6m over the period.
Hamleys chief executive Gudjon Reynisson said the retailer could take advantage of the end of China's one-child policy and has targeted 100 shops across the country.
Reynisson said that Hamleys international stores will leave its London flagship "in the dust" next year as it eyes expansion in Asia.
C.banner chairman Chen Yixi is understood to have family links to Yuan Yafei – the billionaire behind House of Fraser owner Sanpower.
Hamleys has penned a deal to open concessions in House of Fraser stores, but it is thought the two parties were also in discussions about swapping shares in the retailers.