Jewellery and watches retail group Aurum has reported a jump in sales and profits for the year as it eyes a stock market flotation.
Adjusted EBITDA at Aurum, which owns the Goldsmiths, Watches of Switzerland, Mappin & Webb and Watchshop brands, rose 23.2% to £68m as like-for-like sales jumped 5.8% on a constant currency basis.
Net sales for the year ending April 2018 were up 21.2% to £685.2m as luxury plays an increasingly important role in the group's performance.
The sale of luxury watches now accounts for 73% of the group's pro forma sales, driving growth across both the UK and the US.
The strong performance comes as the UK-based group, which is owned by Apollo Group Management, gears up for a London stock market flotation.
Aurum has hired Goldman Sachs and Barclays with a view to listing next year, which could value the business at more than £600m
In its fourth quarter, Aurum grew like-for-like sales 7.5% on a constant currency basis and net sales rose 31.4% to £160.7m, while adjusted EBITDA jumped 34.6% to £10.5m.
'Continued progress'
Aurum claims it has had a "successful integration" of recent US acquisitions including Mayors, the Florida-based watch and jewellery retailer it acquired in October 2017, and two retail stores in the Las Vegas Wynn resort that it bought in December 2017.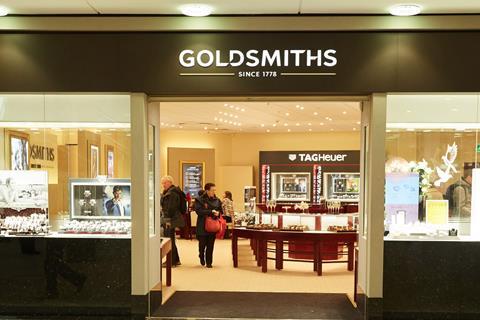 In jewellery the group is focusing on more branded products to protect margins and profitability, while also launching a repositioning plan for its 'fashion' and 'classic' sector, which is predominantly online with WatchShop in the UK.
Aurum is recording strong online growth, and in the UK online luxury sales were up 25.3%.
Brian Duffy, CEO at Aurum, said: "It has been another year of continued progress for the group, with good organic growth being further bolstered by key strategic developments in the US with the acquisitions of Mayors and Wynn. Luxury watches are the driver of growth in both the UK and US.
"This solid performance was supported by the positive market trends in the UK, and particularly in the US.
"Our strong results and the growth we have seen in our total market share in this category during the year, coupled with the continued momentum in current trading post the year end, is testament to the strength of our retail brands, our store environments and our people, and demonstrates that we are well placed for future growth."