Findel has turned its first pre-tax profit during the first half of its year for six years despite revenues remaining broadly flat.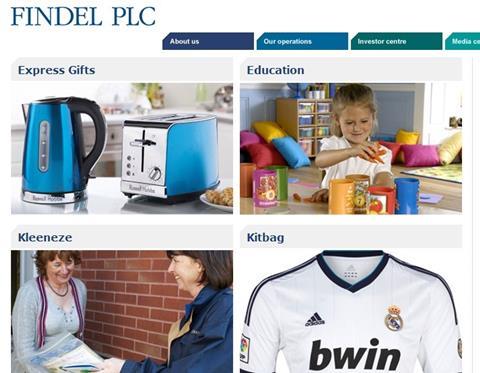 The home shopping business reported a pre-tax profit excluding exceptional items of £1.5m for the six months to September 26, up from a £400,000 loss in the previous year.
Revenues during the period hit £244.1m, up from £243.6m in the year ago period.
Findel group chief executive Roger Siddle said profits primarily came from an improvement in the margin in the Express Gifts business, alongside the business' credit arm "doing an excellent job of managing bad debts".
However, when exceptional items are included Findel's losses widened in the half to £22m from £3m year on year.
Exceptional items came largely from an imparirment charge against the intangible assets associated to the company's Kleeneze business.
Findel reveals a strong trading period for Express Gifts, its largest business, as sales increased 6.3% and customer numbers rose by 4%.
Siddle said: "We are pleased by the performance of Express Gifts, which continues to demonstrate its potential against a more challenging retail environment.
"The opportunities within the business remain extremely attractive and we continue to focus on supporting their delivery.
"Although some of our businesses continue to face challenges, overall we remain well positioned for very strong continued progress."
The company reports it is on track to achieve a 7% to 9% operating margin, driven primarily by its Express Gifts business.
The retail group is in the process of seeking a buyer for its Kitbag business and reports Kitbag sales increased by 7.6% and operating losses reduced by £1.4m in the first half.
Findel reveals it has received several expressions of interest for the business. Among those understood to be interested is Sports Direct owner Mike Ashley.
Siddle said Kitbag had received a wide range of interest both in terms of the "geography and the type of player".
Other businesses in the Findel group struggled as its education arm reported a 5% drop in sales during the half, while mail order cleaning products business Kleeneze recorded a sales plunge of 23.9%.