Ferrero's takeover of Thorntons is on the verge of completion after the retailer's shareholders agreed to sell almost 80% of shares.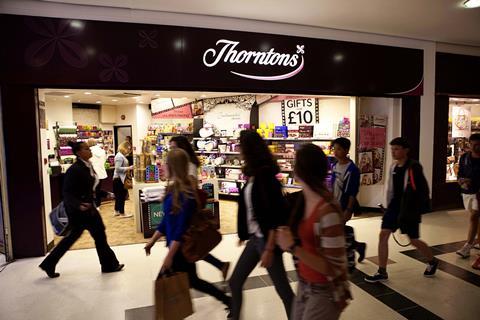 Ferholding, a subsidiary of Ferrero, said this morning that its £112m offer for the chocolatier was now "unconditional" after receiving acceptances to acquire 12.3 million Thorntons shares, representing 17.9% of the retailer's issued share capital.
The company said it was the registered holder of 37,325,858 Thorntons shares, representing 54.13% of the current issued share capital of Thorntons.
Ferholding has also agreed to buy an additional 5 million shares, representing around 7.4%. It means Ferholding has agreed to purchase 79.61% in total of the chocolatier.
Thorntons shareholders have been urged to accept the offer, which remains in place until 1pm on Thursday, "without delay".
The deal was struck last month when Ferrero agreed to pay 145p for each Thorntons share.
Next phase of strategy
Thorntons chairman Paul Wilkinson said at the time of that announcement: "Ferrero is offering our shareholders an attractive premium to the average price of Thorntons' shares over the last three months.
"Although the prospects for Thorntons as an independent company remain strong as the company embarks on the next phase of its strategy, the board of Thorntons also recognises the potential benefits to the brand and the business, including employees and all stakeholders from combining with the Ferrero Group."
Ferrero has pledged to carry out a "strategic and operational review" of Thorntons' business and operations once the deal goes through, but it has not revealed any details on plans for Thorntons' 242 stores.