German fashion etailer Zalando has reported EBIT of €62m (£46m) for 2014, the first profit in the business's history.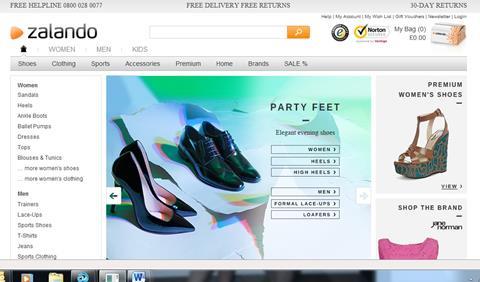 The company's EBIT soared from a loss of €114m (£84.5m) in 2013. It also revealed EBIT of €61m in the fourth quarter of 2014.
Zalando said the profit was driven by savings made in its sales and marketing.
Meanwhile, the etailer reported full-year revenues increased 26% to €2.2bn (£1.6bn), with fourth-quarter revenues rising 21% to €666m (£493m).
Rubin Ritter, member of the management board, said: "Our 2014 performance proves that Zalando's business model is sustainable and can achieve significant margins. It's a great accomplishment by the team and a tremendous success for the company.
"Our focus in the coming years will be to make the right investments for continued long-term growth and value creation, and not to maximize our short-term margin."
The etailer said it expects revenues to continue to rise by 20% to 25% in 2015, but not to exceed the strong margins from 2014.