England's first polymer banknote, a five-pound note showing Winston Churchill, has been unveiled prior to it entering circulation in September.
Revealed at the wartime prime minister's ancestral home, Blenheim Palace, on Thursday, the bank note is the first part of the country's switch away from 320 years of paper money, to polymer money.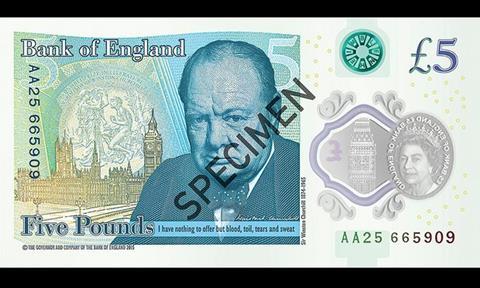 It will be followed by £10 notes showing novelist Jane Austen in 2017 and £20 with artist JMW Turner on them by 2020.
The notes, which are manufactured from a clear plastic film and coated with an ink layer are intended to be more durable and secure against counterfeiting than paper money.
It has been claimed that the cost of handling cash will jump 50% over the next five years, owing to ATMs, vending machines and self-service checkouts needing to be recalibrated to accept new currency.
Australia was the first country to introduce polymer notes in 1988. More than 30 countries, including Scotland, have followed in its footsteps.