Dunelm has reported strong half-year pre-tax profits and like-for-like sales buoyed by curtains and bedding. Here's the City's reaction.
"We felt the performance delivered in the second quarter for the half-year period was lacklustre and that the excuses attributed to the performance at the time (mild weather and low footfall) seemed slightly unconvincing.
"Management continues to anticipate a 152 superstore count for the end of this financial year which strikes us as underwhelming as well.
"We believe the bulk of the required growth will have to come from rolling out the remaining stores needed to achieve management's 200 store roll-out target. Yet that aim may prove a stretch.
"Further we are unenthused by prospects to bulk up Dunelm's home delivery credentials in the furniture category. Expensive two-man delivery costs will constrain Dunelm from generating any meaningful profits in this channel, in our opinion.
"Finally we think management's aspirations to accelerate like-for-like growth may prove optimistic given the maturity of the markets Dunelm operates within.
"Winning market share is likely to be harder if not more costly given most of the "low-hanging fruit" has been taken off the independents.
"Much of the new measures proposed today suggest a "fixing" of the business rather than new growth proposals." – Tony Shiret, Haitong Research
–
"Interim results are flattered by the timing of the winter Sale but came in slightly ahead of our expectations.
"Whether Dunelm chooses to pay higher specials less frequently or not, we see this as a sustainable annual run rate.
"A core sector holding, we believe Dunelm needs to inject a little more pace into growth and, in particular, the move into central London to merit upgrades"

John Stevenson, Peel Hunt
"A core sector holding, we believe Dunelm needs to inject a little more pace into growth and, in particular, the move into central London to merit upgrades.
"It is a tad churlish for us to complain about the pace of growth, but we believe Dunelm does need an injection of pace, noting the store opening programme has slowed significantly over the past two years.
"Customer awareness, a faster store opening programme (particularly in the London area) and increasing online sales momentum all hold the key for this structural growth retailer to outperform." – John Stevenson, Peel Hunt
–
"Dunelm's interim results came in ahead of our expectations and we believe results are currently tracking ahead of earnings consensus due to lower than expected cost growth. The stock is now attractively valued considering there is potential for reasonable space growth.
"The company is currently channelling significant expenditure into strengthening its online and logistics infrastructure to bring the company's fulfilment processes more into line with peers such as John Lewis.
"In this quest, the company has made a commitment to grow sales by 50% over the medium term through store openings, improving like-for-likes and developing the home delivery channel." – Freddie George, Cantor Fitzgerald
–
"While Dunelm's three-pillar strategy may seem simple it is proving highly effective. Its ecommerce business grew significantly over the half, driven by the launch of its new platform in July 2015 which, although encountering a slow start as customers adjusted, is now performing at a strong level.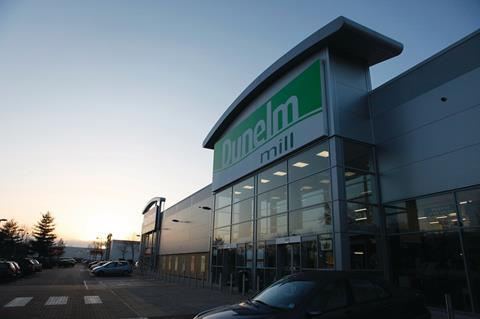 "With Dunelm the market leader in homewares, and growing share in many categories, it would be easy for the company to rest on its laurels. Instead, in a presentation to analysts, it announced eight projects that are underway which represent 'multimillion pound' medium-long term opportunities.
"In a rapidly changing retail landscape, where retailer strategies can often seem reactive as opposed to proactive, Dunelm certainly stands out as having firm longer term goals.
"It has the product, value positioning and brand awareness to drive sustainable growth and we expect its prospects in the second half of the year to be equally strong." - Sophie McCarthy, Verdict Retail