Conviviality Retail expects revenues to increase despite new stores opening later than expected and heavy discounting in the market.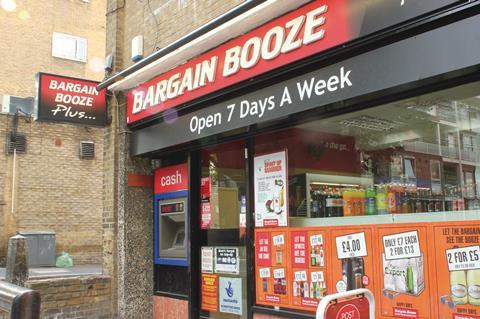 Conviviality expects revenues to hit £364m this year
Like-for-likes at Bargain Booze to fall amid heavy discounting in market
Conviviality appoints Ian Jones to head up remuneration committee
Bargain Booze owner Conviviality Retail is forecasting a 2% increase in revenues to £364m for the year ending April 26 and believes EBITDA will be "slightly ahead of market expectations".
Like-for-like sales at its Bargain Booze stores fell 1.7% during the year, but underlying retail sales per store increased 0.5%.
The group's Wine Rack fascia has shown "modest growth" as like-for-like sales edged up 0.1%.
Conviviality chief executive Diana Hunter said: "2014/15 has been a year of solid progress for Conviviality. The significant changes we have implemented over the last two years ensure we are well positioned to drive growth into the business and the board looks to the future with confidence."
In February Conviviality acquired GT News for £6m to bring an additional 37 stores into the group and franchised the majority of the shops to Jonathan James.
Conviviality is focusing heavily on helping its franchisee partners build more profitable businesses and the group claims this strategy is succeeding as 21 existing franchisees have opened additional stores and it has welcomed an additional 35 franchisees on board during the year.
Conviviality said: "Our franchisees now have the opportunity to earn £14,000 per store more than two years ago, through a consistent improvement in retail margin and the benefits of our franchisee share scheme. The franchisee share scheme enables franchisees to be awarded up to 3,500 shares per store for achieving annual standards targets."
In April the company piloted a click-and-collect service and the app it launched in December has been downloaded more than 19,500 times.
Conviviality is focused on building up its marketing function and recently appointed Carol Savage as chief customer officer to draw on her experience from companies including Sara Lee and Exodus.
Meanwhile, Conviviality has today revealed the appointment of former Homebase retail director Ian Jones to a non-executive director position on its board.
Jones will chair Conviviality's remuneration committee.