Carpetright has recorded a big increase in pre-tax profits as its turnaround continues apace. Here is what the analysts say.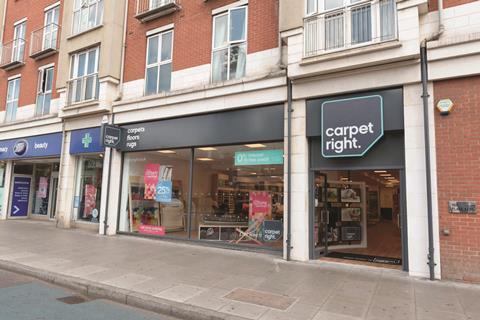 "The Carpetright share price has been strong recently, ahead of today's finals and strategic update and loyal shareholders will feel vindicated by the news that 'Carpetright retains the fundamentals of a leading retail business – high brand recognition, critical mass and a market leadership position'.
"Profits are certainly recovering well, with Europe back in profit and current trading remains good, although whether this simply reflects the pick-up in housing market confidence rather than a response to the new merchandising and service initiatives of CEO Wilf Walsh remains to be seen." Nick Bubb, independent analyst
–
"Final results were in line with our and market expectations. Exceptional charges totalled £7.6m, related to onerous lease charges and should arguably have been taken above the line. Disappointingly, however, the company did not declare a dividend.
"The new management was fully aware of the measures needed to restructure the business"

Freddie George, Cantor
"Following a recent meeting with the company we noted that it was clear the new management was fully aware of the measures needed to restructure the business – the poorly perceived service, the dated look of the fascia, the concept being too focused on price and not aspirational enough for mainstream customer needs.
"We are concerned that the company has seen a significant one-off benefit in its like-for-like sales from the launch of its interest free credit offer. There will also be some impact from Martin Harris's new retail concept, Tapi. He is the son of Carpetright's founder, Lord Harris. The plans are to develop of up to 200 Tapi stores in the UK." Freddie George, analyst, Cantor
–
"The process of root and branch change is well under way, with much to be done across all areas of the business. Excess discounting has ended, with a more coherent trading strategy and the benefits of interest free credit driving average transaction values.
"Carpetright is just starting a four-store trial of a new retail format, encompassing a lighter, modern and more inspirational trading space. Work continues on the wider store estate to reduce excess space from overlapping stores.
"Over the past 12 months, the closure of excess stores typically results in an average sales transfer of more than 40%. The prospect of more than doubling current profits as management initiatives and the positive macro backdrop drives sales densities remains one of the more compelling home-related recovery stories." John Stevenson, analyst, Peel Hunt
–
"At its core UK business, the retailer has been working to broaden its appeal to a wider demographic, which has meant aiming to promote the breadth and quality of its product range and the expertise of its staff, while simultaneously retaining its value heritage.
"Like its furniture and flooring rivals, the past few years have seen these big ticket retailers rely on cut-price promotions to drum up trade, and this has served to damage the reputation of some of these brands.
"Carpetright has therefore looked to refresh its branding, in order to broaden its customer base. This has included revising its promotional messaging to move away from its traditionally price-led advertising.
"Carpetright is not alone in trying to broaden its demographic; this strategy is similar to the work tile specialist Topps Tiles is trialling, in turning some of its stores into 'boutiques', and refreshing the branding across its estate.
"Carpetright has also looked to better highlight the breadth of its ranges, and work in this area has included appointing new in-house designers and product developers to bring in more upmarket and contemporary ranges, while also introducing new premium and branded ranges.
"While trading has shown some improvement at its Rest of Europe business (with a slight uplift in underlying operating profit), challenges still remain, impacted by the slow speed of the economic recovery in Belgium and the Netherlands. To this end, consumer confidence still remains low in these markets and demand for big-ticket transactions for the home." Greg Bromley, consultant, Conlumino