New stores and a transactional website helped total full-year sales at Card Factory to jump 8.1% to December 31. Here's the City's reaction.
"Our confidence that like-for-like growth will persist is based on continued reinvestment from Card Factory.
"Management believes that its relative value-for-money position has improved of late as it continues to improve the quality of its cards while holding prices unchanged.
"Yes, there are some limited experiments with larger or higher priced cards at Card Factory, but in general, the core price points and focus are retained.
"Of course Card Factory also churns its seasonal range every year – something the competition does twice a decade at best – so there is a freshness in the offer as well. Market share gains will persist and it will be interesting to see if the "new kid on the block", Card Market, has the stomach for the fight, in the long term." – John Stevenson, Jonathan Pritchard, Peel Hunt
–
"Conlumino/Verdict data indicates that Card Factory is a strong performer in the cards and wrap category over seasonal occasions such as Christmas, and offering a broader range of higher-margin items like gift wrap and decorations will likely prove a more important part of its strategy going forward.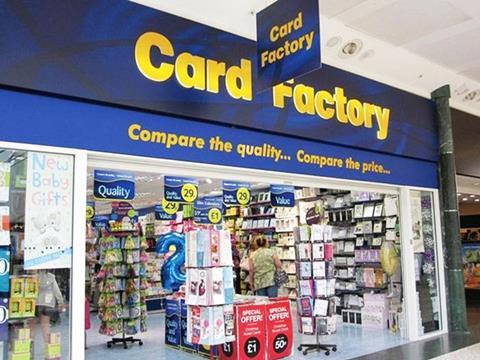 "Card Factory opened 50 net new stores over the period, bringing its total portfolio up to a sizeable 814 outlets. The retailer clearly still has a voracious appetite for growth with ambitions to continue opening another 50 net new stores per annum.
"Card Factory is gaining traction online with Getting Personal – its attempt to tackle Moonpig and Funky Pigeon in the personalised gift and card market – delivering double digit-growth, while the trial of its relaunched Card Factory transactional website is making progress.
"The months ahead will be challenging as Card Factory manages the impact of a potential slowdown in sales growth, in the face of competition from the likes of the discounters and grocers.
"However, this strong performance demonstrates the retailer's resilient business model, with consumer appetite for its low-priced cards and wrapping products showing little sign of abating." – Greg Bromley, Verdict Retail
–
"Card Factory has reported a strong update for the 11 months to 31 December, with sales tracking slightly ahead of our full-year expectations. Management is guiding to full-year profits in line with expectations.
"Card Factory continues to be highly cash generative, which we expect to support frequent additional cash returns"

Adam Tomlinson, Wayne Brown, Liberum
"The store roll-out target for the year has already been hit and like-for-like performance remains robust. Online, while a smaller part of the group, has continued to grow very strongly.
"We expect these components to continue delivering high-quality earnings growth over the long term.
"Card Factory continues to be highly cash generative, which we expect to support frequent additional cash returns." – Adam Tomlinson, Wayne Brown, Liberum
–
"Like-for-likes benefited from particularly strong growth in non-card products, which is a continuation of the trend seen in recent years.
"This is driven by the constant evolution of ranges (more candles and homeware this year) and using EPOS data to improve availability of lines throughout the season.
"Management reported no material shift in the competitive environment over Christmas, which is the most competitive period.
"Getting Personal delivered double-digit growth in the second half at a lower level than first half as expected given last year's tougher comps.
"Management is pleased with the re-launch of the cardfactory.co.uk website." – Kate Calvert, Investec