Boohoo.com has issued a profit warning after investing in a marketing push that failed to pay off due to heavy promotional activity on the UK high street.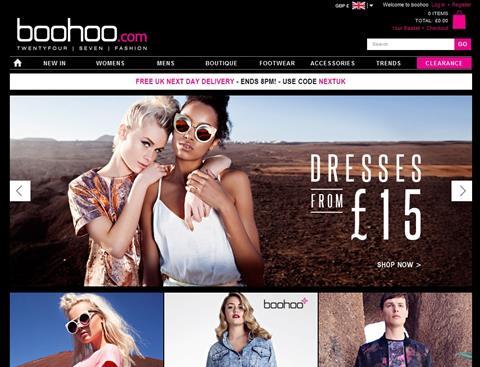 The online fashion retailer now expects sales growth for the second half to be in line with the 25% revenue growth for the four month period to December 31, 2014, down on original expectations.
Boohoo expects EBITDA margin for the full year to be in line with its first half at approximately 10%. Oriel has cut its full year EBITDA forecasts for Boohoo from £18m to £14m.
Boohoo's sales increased 25% to £50.8m in the four months to December 31.
Joint chief executives Mahmud Kamani and Carol Kane said: "Whilst the period proved a challenging trading environment, we have still grown the business by 25%, albeit short of our previous expectations.
"We are very confident that our fashion credentials, pure play online model and the significant investment in infrastructure will continue to drive growth in the UK and internationally."
In the latter part of the first half Boohoo increased marketing spend in order to stimulate sales but it revealed "the resultant growth was less than anticipated".
In the statement, Boohoo said: "We believe this was principally due to heavy promotional activity on the UK high street arising from the warm autumn season."
The profit warning comes after Boohoo revealed in its interim results in mid-October that it had managed marketing spend and growth in the early part of its first half, while also investing in a new warehouse management system and responsive website.