Outdoor specialist Blacks bucked a general retail share price dive to be the biggest riser for the second week running.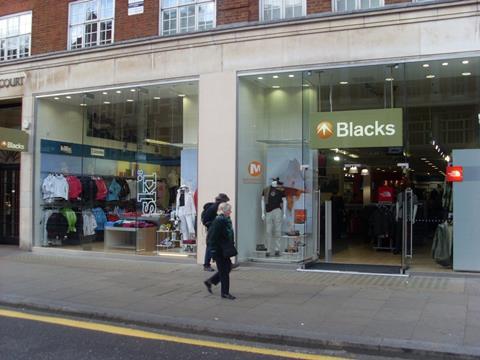 It wasn't the arrival of new chief executive Julia Reynolds that was behind Blacks' advance, but trouble-making by rival Sports Direct's founder Mike Ashley.
He has been stake-building and wants to oust Blacks chairman David Bernstein, prompting speculation that a bid may be in the offing. There was no formal news, however.
Fashion giant Next's first-half sales figures reassured analysts, who were also pleased to hear that selling prices are not expected to increase next spring.
Investec, advising hold, said the news on prices was good not just for Next "but for all clothing peers from a gross margin perspective". Singer, which rates Next fair value, said: "We maintain our view that, when consumer conditions stabilise, Next will rally as the default buy in the sector."
Arden's Nick Bubb was intrigued by Mothercare's appointment as chairman of Alan Parker who, the broker noted, has experience of dealing with "troublesome shareholders". Bubb said: "We are not sure what this means for the Mothercare share price but suspect there is more to this than meets the eye.
"Given the disconnect between the success of the overseas business and the weakness in the UK business, is Mothercare expecting some shareholder agitation?"
Buy Carphone Warehouse advised Oriel. The broker was encouraged by last week's trading update and thinks the outlook for the second half looks good in Europe and US.
There was no news last week about the future of the fledgling Best Buy big-box venture in the UK. Oriel said: "The bonus will be if the company chooses to exit Best Buy UK big-box, which could improve forecasts after losses are eliminated."
Majestic Wine's broker, Investec, issued a buy note highlighting the AIM-listed retailer's good prospects. Investec maintained: "Majestic's range selection and customer service continue to successfully differentiate the company from the vast majority of its store-based competitors.
"The recently announced target of 330 stores in the UK, double its current portfolio, clearly indicates the long-term growth potential of one of the few organic roll-out stories in the sector."
Game was down on news that US giant GameStop has launched a UK website. Espirito Santo, advising sell, said the GameStop offensive should not be overplayed but fears for Game generally. The broker said: "Game needs both a market pick-up and outperformance versus the market in order to meet expectations."
The big focus next week will be the BRC monthly sales data, providing a chance to take the sector's temperature.