Primark will run Black Friday promotions in the US but boss George Weston believes taking part in the event in the UK is pointless.
Weston told Retail Week the retailer "does not see the point" of Black Friday in the UK and, as a result, Primark will not run Black Friday promotions in the UK this year.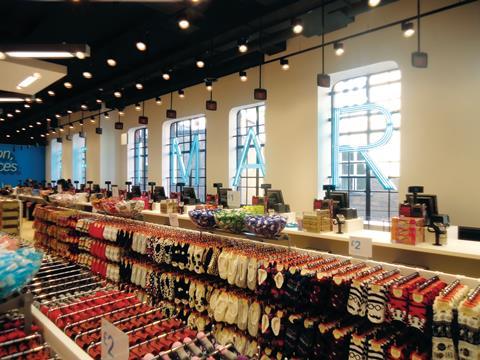 "It seems to have arrived online and although we did not run promotions last year, we saw a lot of people on high streets," says Weston. "But all it seemed to do was bring forward sales, so the week of Black Friday was good and the following week was bad and if you average them together sales were fine."
Despite this, Primark will take part in Black Friday in the US, the country where the shopping bonanza originated.
Primark opened its first US store in Boston in September and will open its second North American store in the King of Prussia shopping centre in Philadelphia.
Weston, who is chief executive at Primark owner Associated British Foods, said: "Black Friday is something we need to learn about. We have plans for Boston around Black Friday, we are much more Every Day Low Prices (EDLP) than promotionally driven.
"Black Friday comes just two days after we open in King of Prussia, so that will be a challenge for new store staff."
US performance
Weston said it was a case of "so far, so good" for sales at its first US store but said it was too early to get a "proper read" on how Primark has been received in the United States.
"We are a much more Every Day Low Prices (EDLP) than promotionally driven"

George Weston, Primark
He also played down the cannibalisation affects new store openings have had on the retailer's full-year like-for-likes.
Like-for-likes sales edged up 1% during the 52-week period ending September 12, which was blamed on the "effects of a strong store opening programme in the Netherlands and Germany".
When those two markets are stripped out, like-for-likes across the rest of the business were 4%.
Primark reported a 2% increase in adjusted operating profit to £673m during the year, while total sales during the period jumped 8% to £5.34bn.
Weston explained: "The new stores have opened really well, the cannibalised stores are still trading at above the company average. The sales densities in the stores is still extremely high, so it reminds me slightly of the UK ten years ago, when we opened Liverpool we took sales off Manchester.
"We are really not concerned we absolutely saw it coming and it is not a bad thing, we need more stores in the north east of Europe and now we have got them."