Bargain Booze owner Conviviality Retail has reported a 4.4% jump in pre-tax profits to £9.7m, despite a fall in like-for-like sales over the year.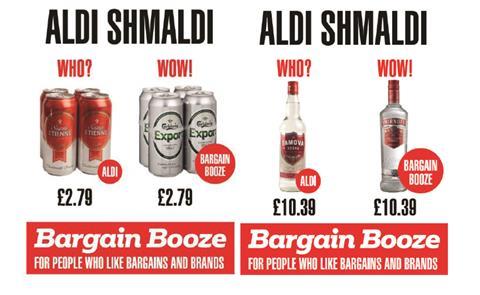 Conviviality pre-tax profit up 4.4% to £9.7m
Sales and EBITDA rise 2.4% and 3.5% respectively
Growth driven by store openings as like-for-likes fall amid "heavy discounting" in market
Sales were up 2.4% to £364.1m for the year ending April 26, driving EBITDA up 3.5% to £12.9m.
Conviviality said retail sales per store were up 0.5% on the year, but like-for-like sales dropped 1.7% amid increasing competition from the grocery sector.
The group, which also owns the Wine Rack fascia, insisted it was "consistently 12% cheaper" than competitors, despite the "heavy discounting" in the market. Last month Bargain Booze took a cheeky dig at the discounters with its 'Aldi Shmaldi' marketing campaign.
Group revenues were boosted by 21 existing franchisees opening additional stores and 35 new franchisees joining the off-licence group. Conviviality said its store estate increased by 29 stores to 624 by the year end and hailed "positive early signs" of a trial to expand into Scotland, where it has opened stores in Stevenson and Annan. More are set to open this month.
It added that its new mobile phone app had so far received 30,000 downloads, while a trial of click-and-collect in 66 stores had been "successful" as it eyes a potential wider roll-out of the service.
Conviviality chief executive Diana Hunter said: "This is a strong set of results reflecting the hard work of our employees, franchisees and suppliers. Franchisees will remain at the heart of our business, as we continue to work together to blend the entrepreneurial skill of the franchisee with the branding, ranging and wholesale expertise of Conviviality.
"Looking forward we will continue to help more of our franchisees grow their existing business while also working to attract new franchisees to the group. The board looks to the future with confidence."
Chairman David Adams added: "This has been a year of growth for the group and the results clearly demonstrate the delivery of our strategy set out in 2013 as we continue to develop the business and drive growth.
"Our acquisitions of Rhythm & Booze in May 2014 and GT News in February 2015 have strengthened our position and enabled growth in new areas."
Last week Conviviality revealed it was also in talks to acquire drinks supplier Matthew Clark, which is half-owned by pub operator Punch Taverns.