The second annual Zolfo Cooper Growth Retailer Report, produced in association with Retail Week, highlights the businesses that have excelled in increasing profits in the UK.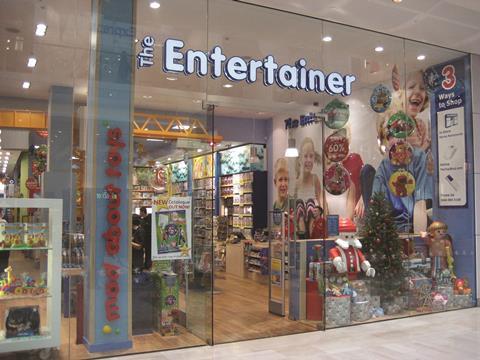 Update: 2015
It is sometimes the businesses which shout the loudest who give the greatest impression of success but, as this year's Zolfo Cooper Growth Retailer Report shows, it's often those quietly plugging away that are producing real results.
The list of 10 ranges widely from homewares at The White Company to fashion at Zara via lingerie at Bravissimo, but as Dan Coen, director at Zolfo Cooper, points out, the retailers do have some things in common.
He says: "Certain characteristics are true for all of our top 10. Most notably an understanding of what their core market is."
He observes that many of the list's constituents have slowly strengthened their offer over time. "Some of them are businesses with simple formulas that have stood the test of time, such as The Entertainer, Poundworld, Zara, Bravissimo and The White Company. They have not sought aggressive expansion and have instead ensured they understand their market and expanded with the market and without excessive risk," he says.
There are also success stories that have arrived on the scene after a management shake-up. "Others, such as Whistles, have received a timely 'shake' by new and innovative management teams," Coen says.
Read on to find out more about the retailers at the top of the rankings.
1) The Entertainer
The Entertainer tops the list, having achieved a sales increase of 13.9% to £94.3m in the year to January 2013. The toy specialist benefited from the net addition of 11 outlets, as well as like-for-like sales growth of 5.4%, while the online business increased turnover by 27.4%. Earnings have also increased - operating profit more than tripled to £5.1m.
Its 2013 results, released last week, were just as impressive. The 89-store retailer said pre-tax profit increased 16% to £5.96m in the year to January 31. Sales rose to £125m.
2) Aldi
German discount grocer Aldi took first place in last year's Zolfo Cooper Growth Retailer Report and is as one of the biggest success stories in UK grocery in recent years.
The latest UK subsidiary accounts, which include Republic of Ireland stores, show that Aldi achieved sales growth of 40.6% to £3.9bn in 2012 (the UK is estimated to account for £3.3bn) and improved margins as management kept a close eye on the bottom line. Operating profits rose 67.2% to £172.1m.
Aldi entered the UK in 1990 and, while its progress was initially slow, it has been gathering momentum over the past decade. The company opened its 500th UK store in the affluent Suffolk town of Bury St Edmunds in late 2013, underlining the growing acceptance of its discount format across all socioeconomic groups.
"Aldi entered the UK in 1990 and has been gathering momentum over the Past decade"
3) Zara
Spanish fashion giant and Zara parent Inditex is the world's largest fashion retailer. The arrival of Zara in the UK in the late 1990s brought a dynamic, innovative and powerful force to the middle mass-market - it pioneered the now much-adopted concept of fast fashion, and it broke the mould of the traditional fashion retail model that focused on two seasons.
As Zolfo Cooper points out, one of the key elements of Zara's success is that its business model is more flexible than most similarly sized retailers. Its
ability to respond quickly to fashion trends, both in store and throughout the supply chain, has made it a favourite among consumers.
Although Zara has already demonstrated its ability to manage a cost-effective business, it is expected to benefit further from online sales growth over the coming year.
In its year to January 2013 pre-tax profit rocketed 168% to £51.8m.
4) B&M
B&M, the variety store business that was founded in the mid-1970s, has undergone particularly rapid expansion following the sale of the business to Simon and Bobby Arora in 2004.
Under the ownership of the Arora brothers, the store network has grown from 19 stores in 2004 to more than 370 now. Although the value retailer's heartland remains the Northwest, it has a strong presence across the North, the Midlands, Wales and more recently has ventured into Scotland, Northern Ireland and the South of England.
Expansion has been helped by the collapse of a number of major retailers such as Woolworths and Focus, making prime retail sites available.
B&M recorded a 71% rise in pre-tax profits to £88.3m in 2012.
5) Poundworld
In its financial year to March 2013, Poundworld reported that sales increased by 42.3% as it benefited from opening 46 stores. This has taken its turnover to almost £300m and means it is continuing to close the Gap with single-price rival 99p Stores, which is in second place in the sector behind Poundland.
However, profitability has been under pressure in Poundworld's last financial year - pre-tax profits fell 34% to £1.9m. Management attributes this to reduced footfall compared with last year's surges as a result of the Queen's Diamond Jubilee and the London Olympics. At the same time, the discounter has continued to invest in its back-office infrastructure to support further expansion.
Co-managing director Chris Edwards said: "As well as major developments being made to our IT infrastructure, we have invested heavily in our Far East operations, opening a new office in Shanghai, which now employs over 20 people."
Leadership: The people behind the businesses
The Entertainer continues to be led by founder Gary Grant (pictured below) and his wife Cath, who have been joined by sons Duncan as multichannel director and Stuart as buying director.
Aldi's UK and Ireland operations are headed by joint managing directors Roman Heini, the former managing director of Aldi in Switzerland, and Matthew Barnes, previously buying director of Aldi Australia.
Zara appointed Lorenzo Marcheselli as managing director for the UK and Ireland at the end of 2011. He was previously in charge of the group's Italian operations.
B&M continues to be led by brothers Simon and Bobby Arora. Following the sale of a majority stake to private equity firm Clayton, Dubilier & Rice in late 2012, former Tesco boss Sir Terry Leahy has come on board as chairman.
Poundworld is still a family-owned and run business, with Chris and Laurie Edwards designated as joint managing directors. Chris' son Christopher has joined as trading director.
Bravissimo is led by managing director Jo Lee. Founder Sarah Tremellen has taken a back seat from the day-to-day running of the business, but still owns the company with her husband.
The impressive turnaround and injection of style at Whistles in recent years has been attributed to the arrival of chief executive Jane Shepherdson in 2008.
PerfectHome was co-founded by Mike Sweetland, previously chief executive of BrightHouse, and Mike Cooper. They both remain involved in the running of the business as chief executive and commercial director respectively.
The White Company appointed Will Kernan, previously New Look's chief operating officer, as chief executive in 2011.
Abercrombie & Fitch and Hollister does not employ a local management team in the UK. The overall group is still very much directed by chairman and chief executive Michael Jeffries, who masterminded the global rise of the company's brands.
6) Bravissimo
Bravissimo originally traded as a mail order company in 1995 and quickly benefited from publicity in women's magazines and national newspapers.
It wasn't long before a first shop was opened in Ealing in 1999 and continued expansion took the store network to 22 shops by early 2014. Coverage now extends to England, Scotland and Wales.
Turnover for the business increased by 4% to £46.5m in the year to August 2013, while operating profit was up by 40% to £2.5m.
7) Whistles
Former Topshop brand director Jane Shepherdson led a management buy-in of Whistles in 2008, and since then the womenswear retailer's performance has taken a turn for the better.
Shepherdson's arrival led to a repositioning of Whistles towards a younger target market. It has since taken on a more directional style, which has proven very popular among its core market of female professionals.
Sales at Whistles increased 24% to £49.3m in the year to January 2013, driven by strong like-for-like growth and the opening of six standalone stores and four concessions in the UK. Sales growth has also dropped through to the bottom line, and the business reporting an operating profit of £1.2m last year.
8) PerfectHome
PerfectHome is a rent-to-own retailer that offers a range of electricals, household appliances and furniture to customers on weekly payment schemes.
Although only established in 2006, the business has grown to 64 outlets, employs 540 staff and plans to add a further 100 this year as it continues to expand.
During its last financial year, the number of customer contracts grew by 20.2% to just over 300,000, compared with 257,000 in the previous period. That helped group turnover rise by 25.8% to £72.1m.
9) The White Company
The White Company has stayed true to its values of offering stylish, simple and neutral home designs and furnishings.
Rather than focusing on achieving growth through an aggressive store roll-out, it has instead ensured that it fully understands and provides for its core customer base.
As a result, sales increased by 8.3% to £125.6m in the year to March 2013 as the company benefited from the addition of two new shops, while like-for-like sales are also thought to have grown strongly. Over the year, operating profit was up by 4.9% to just under £5m.
10) Abercrombie & Fitch and Hollister
Abercrombie & Fitch has employed a strategy of keeping its store count low in order to maintain the exclusivity of its format - it still only has one store in London. However, its roll-out of Hollister stores has been well received by shoppers and has been at the heart of growth.
Abercrombie & Fitch and Hollister files accounts in the UK as AFH Stores UK Ltd. Its latest results show that sales were £209.5m in the year to February 2013.
However, total sales were reported to be down by 0.7% over the year and operating profit fell 3.5% to £9.56m. Much of the decline was likely to have been experienced by Abercrombie & Fitch as the steady programme of international flagship openings across Europe diverted sales from the London store.
Methodology:
Profit measure
For the Zolfo Cooper Growth Retailer Report, profit is defined as earnings before interest, taxation, depreciation, amortisation and exceptional items with directors' remuneration added back in. Private companies can take widely differing approaches to directors' remuneration depending on their ownership and we have therefore removed this variable to avoid potential distortion.
Profit growth is measured by compound growth rate over three years based on statutory accounts. The analysis had a cut-off date of September 31, 2013. Companies that have filed their 2013 accounts will have profit measured from 2011 to 2013, while companies that had not yet filed 2013 accounts will have profit growth measured from 2010 to 2012.
Qualifying companies have a turnover of at least £30m for the last three years and profits of more than £3m in their latest accounts. They must also have two consecutive years of growth and have been profitable in all three years. Businesses must be registered in the UK and be independent and unquoted.
To download the full report click here.