The idea of an etail-only tax has divided the industry. Could it work or is more tax a bad thing for everyone?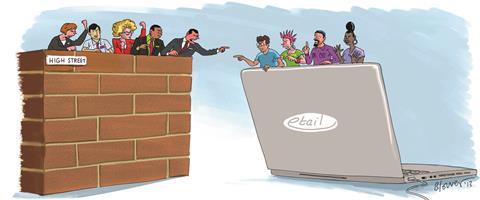 Much of the time, the retail industry manages to rub along quite nicely - retailers tend to be too busy with day-to-day business for public wrangling or outright spats.
But the idea of an online tax has prompted unusually passionate responses from retailers. After it was reported that Sainsbury's chief executive Justin King had called for a tax aimed solely at etailers, online retail web bosses leapt to their own defence, insisting they should not be penalised.
It's true King did support the idea of recalibrating the amount of tax paid by bricks-and-mortar retailers - which face high business rates for their stores - and etailers, whose tax bill has historically been less painful. But he stopped short of calling for an online-only tax, and said the best way to rebalance the burden would be via lowering business rates, which retailers across the industry say are too high.
King said at Sainsbury's results in June: "The burden of taxation in the UK falls very heavily on bricks-and-mortar retailers versus internet-only retailers. I think we should rebalance the tax burden."
The British Retail Consortium agrees the tax landscape needs to change, and is looking into the issue this summer as it discusses it with members.
Etail giants' small tax bills
But while King did not call for online tax, the comparative tax burdens for online and physical retailers has been a contentious issue for some time. The main culprit in many bricks-and-mortar retailers' eyes has been Amazon, although other online companies such as Google have been implicated as well. Amazon UK paid £2.4m taxes on sales of £4.3bn last year, and documents filed at Companies House showed its tax rate worked out at just 0.1%.
To retailers such as Justin King, that stings. He said in June that Sainsbury's was the 14th biggest taxpayer in the UK, despite being only the 50th biggest business. He said: "I think we should rebalance the tax burden. I don't think as a society we want to see more tax in total. But that tax should be borne fairly by all and at the moment [it's borne by] a relatively small number of businesses."
The US has responded to this problem by proposing to change its stance on sales tax. The tax is currently levied on any business with a physical presence in a state - the changes would mean it could be charged on any business that generates at least $1m (£662,000) annual sales in a state, whether or not it has a physical store. The Marketplace Fairness Act was proposed in a bid to make sure companies such as Amazon, which don't have any buildings in some areas, pay sales tax everywhere.
The issue in the UK is different because everyone pays VAT. Instead, the bone of contention is the high price of having stores on a British high street. King said: "The issue here is the business rates, which are a much bigger part of the tax burden in the UK than in other countries, only borne by bricks-and-mortar retailers, and that is [what] the Government will need to think most about how to address."
But pure-play etailers are quick to point out that not every online retailer is Amazon, and that every business faces disadvantages and advantages.
Shop Direct boss Alex Baldock and Lovehoney co-founder Richard Longhurst have both detailed their stances on the issue, pointing out that many bricks-and-mortar retailers are managing to expand their store estates despite the supposedly high rates. Plus, Baldock says, etailers face high costs in other areas, such as distribution.
John Roberts, founder of etailer Appliances Online, meanwhile, says economic forces should be allowed to play out.
"The UK is meant to be a vibrant, economic hub of innovation," he says. "Even proposing the idea that the Government should intervene in channel shifts with taxes reinforces the point that a mindset change is required within retail to skate where the puck is going as opposed to employing the King Canute approach to progress.
"With a future facing focus on innovation, retailers like HMV could have developed iTunes in the UK and
generated UK taxes."
The practicalities of tackling the problem in the UK aren't easy either. James Cashman, a corporate tax solicitor at law firm Hill Dickinson, says it would be difficult to distinguish between firms that should pay an online tax and those that shouldn't - traditional retailers may have to if they trade online, which wouldn't level the playing field.
"The only fair way would be if everyone online was taxed on profits or sales above a certain amount. Otherwise my concern would be we'd potentially be allowing those that have a retail arm to increase their share of the etail market without paying any tax."
As King says - and as Retail Week has campaigned for - the only way to rebalance the burden is to limit business rates. Surely that's where Government should take action on this, but debate is likely to rage on.
'Bricks-and-mortar retailers' complaints don't add up'
Richard Longhurst, co-founder of online sex toy retailer Lovehoney
Etailers hang your heads. You have brought shame on your staff and your shareholders. You have betrayed your customers and our great nation.
Through your devious online-only modus operandi and refusal to open shops, you have cunningly avoided paying as much tax as your high street competitors. As Jeffrey Osborne pointed out, aggressive tax avoidance like this is morally repugnant. You really ought to be ashamed.
Retailers (the ones with shops and websites) think they carry an unfair tax burden because they pay business rates. One proposed solution is to introduce an as-yet-undetailed new tax for etailers (the ones with websites but not shops) in order to level some imaginary competitive playing field.
The idea of an online tax is based on the flawed thinking that if you avoid a tax by choosing not to do the activity on which the tax is levied, then the Government should find another way to raise revenue from you.
By this logic, non-smokers and non-drinkers should suffer a tax on their puritanical behaviour because
the vices of smokers and drinkers are highly taxed. People who walk to work should pay a 'pedo tax' (some work is required on the name, obviously) because car owners have to pay Vehicle Excise Duty.
Clearly bonkers.
Comparisons have been made between a UK etail tax and the proposals in the US Marketplace Fairness Act. This is bogus - we already have a fair sales tax system in the EU, it's called VAT. If you sell goods across borders you pay sales tax in the country where the customer lives once your sales are over that country's registration threshold. This is the system they are proposing to implement between states in the US - nothing to do with business rates and the etail tax argument at all.
Business rates are clearly burdensome, but not so burdensome as to prevent the expansion of many retailers. Sainsbury's plans to open two convenience stores per week for this financial year. Poundland is opening 11 shops in 11 days.
Down Weston High Street where I live in Bath, a long-established Chinese takeaway and a carpet shop have been booted out because Tesco has taken over the leases to expand its next-door Extra. How can they complain about business rates while simultaneously enjoying the huge profits that stores generate and undertaking aggressive expansion programmes? It doesn't add up.
But wait. Earlier this year, Tesco wrote down £804m worth of planned property developments after boss Philip Clarke admitted it did not need as much space following the growth of online. That's the real story - the acknowledgement that the internet has changed the way people shop.
Until ecommerce, a shop was the most convenient, efficient and profitable way of getting goods from producer to customer. Now there is a better way that customers increasingly prefer - shopping from the sofa instead of schlepping down the aisles.
Ocado, Amazon and Asos have shown that it's possible to move on to a new model. Instead of complaining about unfairness and calling for illogical taxes on etailers, retailers should ask themselves what their shops are for. Shopping? Showrooms? Click-and-collect?
Nobody knows the answer, but clearly a change of use is likely, which would mean the retailers will get what they want in the end - lower rates. One way or the other, the internet will make tax avoiders of us all.
'Let's not hamstring a uk success story'
Alex Baldock, chief executive of Shop Direct
Do we online retailers have an unfair advantage over our bricks-and-mortar counterparts? A debate centred on our lower business rates has bubbled under the surface for the last few years. Two weeks ago, the row erupted.
The truth is that online does have certain advantages over bricks and mortar. A limited property portfolio means not only lower business rates for online retailers but also a level of range choice and agility that physical stores can only dream of.
Online businesses can also trade without interruption, offering shoppers the ability to browse and buy easily and conveniently around the clock.
Do these advantages mean that online retailers are somehow attempting to suffocate our high street competitors, as has been suggested? Absolutely not.
For us, the online retail tax smacks of an overly simplistic idea that would penalise both multichannel and pure-play innovation and ignore any of the advantages that bricks-and-mortar retailers have over online.
Let's be clear. A substantial store presence equals massive brand awareness, innate trust from consumers and the ability to create an in-person experience that's extremely difficult to replicate online.
That's not to mention the lower costs of distribution and returns, postage, packaging, fuel, website hosting, digital marketing, sales and customer service. Are we going to find a way of taxing these advantages?
The assumption seems to be that, as a remote retailer with 80% of sales online, Shop Direct has limited or even no commercial property assets. That's clearly not the case. We have multiple offices in the UK, Ireland, Hong Kong, China and India.
Combine those with more than 2 million sq ft of UK warehousing and returns facilities and you're looking at quite a sizeable portfolio.
But that's hardly the point. If we're to "level the playing field", as some bricks-and-mortar retailers have demanded over recent weeks, we should be looking at ways of encouraging growth and creating jobs across the industry as a whole.
To tax new, innovative and growing industries would achieve precisely the opposite - slowing the economy, hitting jobs and reducing investment. Yes, a number of high-profile high street retailers have succumbed to administration over recent years. But how many online players have fallen by the wayside too?
As a retailer that makes good things more accessible for millions of people, what we do fulfils a big and growing customer need to spread the costs of both everyday and special purchases.
Not everybody has the luxury of walking into a high street store and paying outright for a school uniform or
a flatscreen television. The fact that we're now a pure-play etailer helps us to continue providing that service. That shouldn't be hampered. And nor should our growth.
As well as the 4,500 people we directly employ, we help to provide jobs for thousands more across the technology, manufacturing, logistics and marketing industries, among others.
And with the ambitious plans we have in place for the next three years that will see us strive to compete with the best digital retailers in the world, that number could grow exponentially. Is that a business model that should be penalised?
By all means let's work to reduce the burden on bricks-and-mortar retailers. But let's not do that by hamstringing a rare and precious UK success story in the process.