On the surface, the new Figleaves ad looks fairly standard for a lingerie retailer.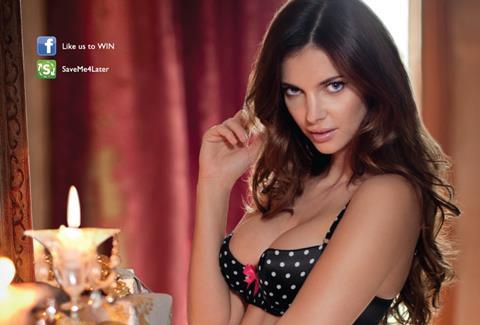 But the N Brown-owned etailer is trying something new with its use of the SaveMe4Later app, which appears in the corner of its posters on the London Underground.
The idea is that busy commuters who have downloaded the app onto their smartphones will be able to save the advert by typing the brand name and location into the app, which they can then use to take them to the website once they're out of the tube and can use the internet. There's a discount for anyone purchasing via the app.
It's an interesting idea to try a new digital service, but there's a slight problem in its execution says Catherine Shuttleworth, chief executive at marketing agency Savvy. Customers might not be aware of SaveMe4Later in the same way everyone recognises Facebook's logo, and because Figleaves is a lingerie retailer, a small green square in the corner of the poster probably won't be the main thing grabbing customers' attention.
"It's a beautiful advert and an interesting idea to use the app, but there's no call to action and it doesn't give you a reason to buy from Figleaves. The ad could be from any lingerie retailer," she says.
SaveMe4Later also has a bit of work to do to improve awareness of its service before its benefits become apparent, she says. Plus, if plans to install Wi-Fi in the underground do end up materialising, the app could become redundant for tube commuters, although could still be useful when 3G networks fail.
Buy Multichannel Now. Retail Week's exclusive report reveals what UK retailers really think of multichannel, and how they'll act on it in 2012.