Zalando sales up 25% in its second quarter to $916m
Full-year profit margin increased to 4 - 5.5%
Adjusted group EBITDA came in at $80.9m – a 167% increase year-on-year
Zalando has posted 25% sales growth and increased its full-year profit guidance as it continues to invest in the customer experience.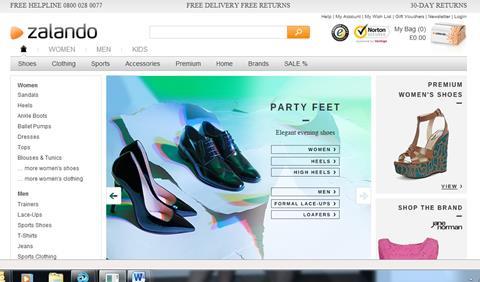 Sales at Zalando have rocketed in what the fashion etailer has described as an "outstanding first half with strong growth and profitability".
Zalando management board member Rubin Ritter said its first half results reflect "strong customer momentum with strong growth at scale".
He said: "Despite ongoing investments into our longterm growth strategy, our business showed increased strength and profitability."
The German etail giant said it continues to improve the customer experience in its markets by extending its fulfilment capabilities. It said the construction of its logistics hub in Lahr is on track, and that test operations have already commenced.
Zalando added that its joint campaign with athleisure label Ivy Park in its second quarter was successful and has said it will continue to collaborate with high-profile brands.
The etailer's push towards mobile has led to a doubling of app downloads in the past 12 months and 90% growth in app orders year-on-year.
It grew its number of active customers to 18.8 million during the period, with average orders per active customer reaching an all-time high of 3.3 orders per year.
Zalando has reiterated its full-year guidance of sales growth at the upper end of its 20-to-25% growth corridor and has increased its full-year adjusted EBITDA margin guidance to between 4 and 5.5%.
Zalando operates in 15 European markets at present – including the UK – and carries more than 1,500 brands including own-label.