Womenswear retailer East is closing 19 stores and five concessions across the UK after slipping into administration.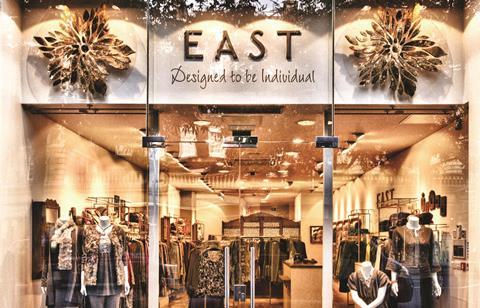 East stores and concessions to close following administration
But pre-pack deal saves 82 stores and 550 jobs
Spokesman says deal "secures a sustainable future" for the retailer
Around 155 jobs will be lost following the move, but a spokesman from the retailer said that a pre-pack administration deal had saved "more than 550 jobs and 82 stores and concessions" and "secures a sustainable future" for the retailer. Its website, East.co.uk, will operate as normal, the spokesman added.
The 19 stores affected, including shops in Belfast, Brighton, Carmarthen, Cheshire Oaks, Exeter, Glasgow, Harpenden, Hereford, Inverness and Jersey, will close immediately.
Stores in Kendal, Marlow, Morpeth, Richmond, Southampton, Southport, Wilmslow, Windsor and Witney have also been shuttered.
Concessions at Clerys Dublin, McEwans of Perth, Barbours of Dumfries, Austins of Newton Abbot and Quadrant Chelmsford will also close.
All employees affected by the closures have been contacted individually, East said.
The business was bought earlier this week by East Lifestyle Limited. It is understood Fabindia, which has been a majority owners of East since 2012, also owns East Lifestyle Limited.
An East spokesman said: "Geoffrey Bouchier and Philip Duffy, managing directors at Duff & Phelps, joint administrators of East Limited, have announced the successful sale of the business and its assets.
"East, one of the UK's most well-known contemporary women's fashion brands, will continue under the management of the current team.
"The sale follows a vigorous bidding process that included a number of private equity firms and secures a sustainable future for the brand."
Duff & Phelps managing director Geoffrey Bouchier said: "East Limited had suffered losses in the past few years due to the continuing difficult economic climate and also the shift in consumer spending to different channels away from the traditional high street stores.
"The restructuring process has resulted in the continuation of viable stores and the safeguarding of the majority of the employees and ensures that the business is financially secure for future trading."
East reported losses of £712,300 for the year ending March 29, 2014, after turnover fell 2% to £39.7m and UK sales dropped from £44.3m to £38.8m.