As Asos announces the departure of its boss and founder Nick Robertson, we look ahead at the challenges facing his successor, Nick Beighton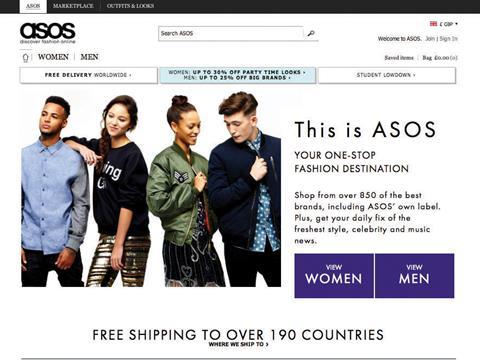 Sustaining growth in the home market
Asos has become one of the key destinations for young shoppers hungry for fast fashion and still manages to increase sales on its home turf – UK retail sales jumped 27% to £158.4m in the four months to the end of June.
However, analysts raise question marks over how sustainable growth can be in the UK. "They've done really well in the UK but the big challenge for Beighton over the long-term – the next five years or so – is how to maintain a robust, maturing business," says Verdict lead analyst Honor Westnedge.
She suggests that Asos could try to attract new customers by introducing new brands or opening a physical store. "They've got to find new ways of leveraging growth," adds Westnedge.
Keeping the momentum going overseas
Expanding internationally is crucial to Asos's growth plans, and the overseas market is a big part of the pie. International sales account for 59% of Asos's business and they're also on the rise – in the four months to the end of June, they soared 16%.
However, Asos has had well documented issues in the past with the overseas market, with the strong pound impacting sales, leading Asos to introduce zonal pricing in the US, France, Germany, Italy and Spain.
But analysts believe the etailer must press ahead with new markets as it looks to sustain global growth.
"They need to look at developing countries like Brazil, India and parts of Africa and work out how they're going to make online work there. That's where the growth is"

Honor Westnedge, Vedict
Westnedge says Asos has an under developed international strategy, which Beighton must tackle. "They were quite low on the uptake in China, taking years to launch. Now they need to look at all other developing countries like Brazil, India and parts of Africa and work out how they're going to target them and make online work there. That's where the growth is because those countries are seeking Western brands so retailers need to target those countries."
Focusing on creating a standout own label
Has Asos really developed a brilliant, much sought-after own label that creates a buzz like say Topshop? Definitely not, according to Cantor analyst Freddie George. And there-in lies a major challenge.
"Over the long-term they need to strengthen their own label"

Freddie George, Cantor
"If you talk to other people about the brand, it's not like a Topshop – people don't think of Asos [like a strong brand]. It doesn't have a heritage and that's a problem going forward. Over the long-term they need to strengthen their own label."
Westnedge raises questions over the quality of its own brand. "As people trade up and have more money, they'll be looking for value for money. I haven't seen Asos invest in quality like say Next and Marks & Spencer has."
As a result, Beighton may wish to follow M&S's path by investing more in higher quality materials to create clothes that are more longer-lasting and sought after.
Maintaining a good relationship with brands
Asos has worked hard over the years to attract and keep on board top fashion brands such as Whistles, Oasis and Coast. It even had a temporary relationship with Primark, becoming the first online retailer to ever stock the fast fashion retailer's wares, which has persistently stuck to its physical retail format.
Still, keeping happy 800 brands across its website has been tough, especially when – in a tough, competitive market – Asos continues to rely on discounting to woo its customers.
Last year brands hit out at the retailer for discounting and one criticised the retailer for "damaging their brand". Westnedge said Beighton will have to "continue to build good brand relationships". She adds: "Brands will never leave but he needs to look after those brands and get the pricing right".
Continue to pioneer
Under Nick Robertson, Asos has shaped the online clothing revolution. Whether it's the creation of Marketplace, its loyalty program, its speed to market or launching a podcast, Asos has been one of the leaders in shaking up the fashion landscape.
Can Beighton keep up such trailblazing momentum? Either way, he must, says Westnedge. "Once you've grown so much, growth is harder to come by but one avenue could be opening a store or working with a physical retailer." For example, Asos could be stocked in a department store. He's got to find new alternatives for growth.
Managing the board
Nick Beighton has operational issues like China and zonal pricing to consider, says Nick Bubb, but the independent analysts think his biggest challenge will be managing both his time and the board.
"Clearly Nick Roberston may find it hard to step back completely – there's nothing worse than a back-seat driver – and he will need to get the non-execs to recognise his new role in the business. And with the financial director literally 24 hours into her new job, Nick Beighton will still have to spend a lot of time on his old investor relations role with analysts and shareholders. So he will be stretched thin for a few months, but I'm sure everybody will get on and Nick Beighton and Nick Robertson are close buddies.