UK retail sales were down 2.1% like-for-like in September compared with the same month in 2013 while fashion reported record declines.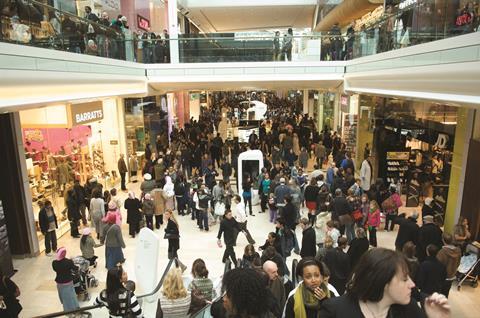 The fall in UK retail like-for-like sales compares with being up 0.7% in September 2013. Total sales were down 0.8%, against a 2.4% rise in September 2013. This is the weakest performance since December 2008, excluding Easter distortions.
Clothing and footwear were the worst performing categories in September, reporting record declines since April 2012 and March 2013, respectively.
Over the last three months, food showed a decline of 1.7% and reported its first 12-month average decline in at least five years, at down 0.2%. Non-food reported an increase of of 3% over the three months to September 2014.
Online sales of non-food products in the UK grew 8.2% in September versus a year earlier, when it had grown 13.4%. This was the lowest online growth since August 2013.
Helen Dickinson, director-general of the British Retail Consortium, said: "In September we saw the lowest retail sales figures since December 2008 excluding Easter distortions. This can be attributed to a number of factors including the continuing decline in food sales.
"Furthermore, there was exceptionally low demand for items such as boots and coats, resulting in the lowest fashion sales performance since April 2012. However, demand for big-ticket items continues to be strong with furniture outperforming all other categories.
"Despite the testing environment last month there are encouraging signs for the industry as the build up to Christmas begins. Toys and beauty products sold well and sales are only expected to accelerate for these items around Christmas.
"As we approach Christmas, the search for talented seasonal staff has begun, to support the extra demand from shoppers. A large proportion of these seasonal roles will turn into permanent positions; proving that this time of year is great for those looking to begin a career in retailing."
Warm summer hit sales
David McCorquodale, head of retail, KPMG, said: "The prolonged Indian summer wilted retail sales in September, leaving clothing retailers hot under the collar. Selling woolly jumpers in warm weather is a tough ask, even for the most talented of sales staff.
"After a bumper summer, this is a disappointing outcome for retailers and has undoubtedly reversed some of the sales gains made in August. However, if temperatures drop to a more seasonal level this cooler weather will quickly turnaround retailers' fortunes and help them to sell their autumn winter ranges.
"The grocers had another challenging month, with further price cuts and promotions announced by most. With a rebasing of margins in the grocery sector throughout the year, this final quarter will see sales go to those who are most focussed on their customers.
"One warm September doesn't ruin a Christmas and retailers on the whole are on a firm footing as they enter the all-important final quarter. The winners will be those who have invested in their systems and carefully managed their stock levels to give themselves the best shot at a successful Christmas."
UK retail like-for-likes down 2.1% in September, fashion reports record declines
1

Currently reading

UK retail like-for-likes down 2.1% in September while fashion reports record declines

2